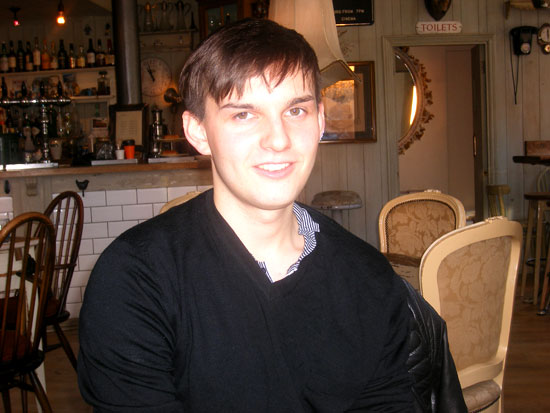 Actress Emma Watson made the headlines last week. Why? Because of the gorgeous dress she wore to the L.A premiere of her new movie The Tales of Despereaux. And because she opted for an up-coming designer over the likes of Chanel or McQueen. The chosen one was of course designer William Tempest whom I had the pleasure of meeting recently. Over pancakes and coffee at a quaint cafe in Bermondsey he mentioned the possibility that Emma would wear one of his exquisite designs. I for one am pleased William made it to the red carpet…take a look at his collection for Spring 09 and you'll understand why….
A lover of architecture, he says if he wasn't in fashion design he'd "probably be an architect…which could explain his aesthetic. Like Roland Mouret, he's one for keeping his designs clean and simple with great attention to detail paid to cut and shape.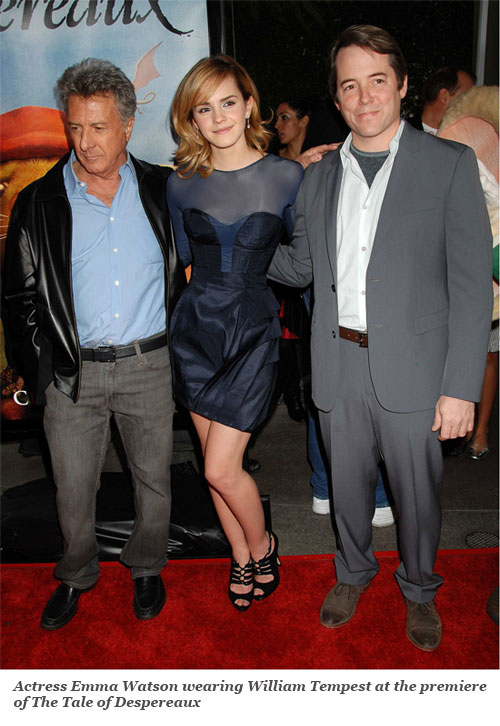 As one of the four finalists of Fashion Fringe at Convent Garden 2008 – the prestigious competition that's launched the careers of Basso and Brooke, Modernist and Erdem – William has been fortunate enough to have attracted press attention early on in his career. Describing the "Fashion Fringe" experience as "completely unnatural because you get so much attention and so much exposure, he adds "It's really fantastic but it's like going from one extreme to the other and back to the other at the end of it. It was a huge build up and it just stopped.
William is quietly confident, easy to talk to and very open. He has a clear vision for his brand which he explains,"…is all about cut and construction and high quality. It's for the woman that appreciates luxury but at the same time wants to be innovative. Like many other designers before him, his significant other is also his business partner. Together their aim for the future is to "keep the press going in the right direction, focus on doing more shows, getting the right stockists on board and ultimately emerging from the current economic crisis unscathed.
Appreciating the power of the mainstream William says he'd love to team up with a high street retailer. Throwing on his business hat he highlights, "It's a way to financially support your business and do what you want while also getting your clothes out there and getting your brand out there.
Right now his schedule consists of swimming every morning and preparing for the debut of his AW09 collection…."It's based on Tudor England and I've been looking at the architecture of that period as well, he reveals. A little taster from the pre-collection indicates that we can expect a dark palette, corsets, and emphasis on the waist.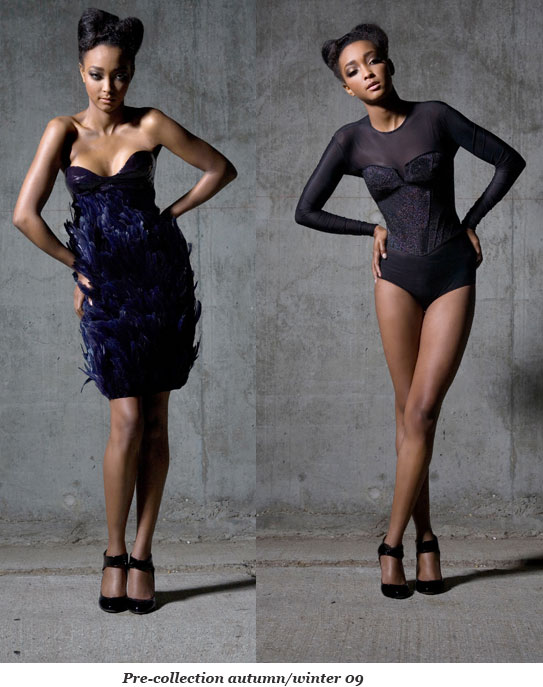 For now William is content with presenting to London's fashion pack. When asked if he had to choose between flying to New York or crossing the Channel to Paris to show at fashion week, he says he'd opt for Paris. Fingers crossed he'll be with us for a little while yet!