Last Updated on 19th October 2013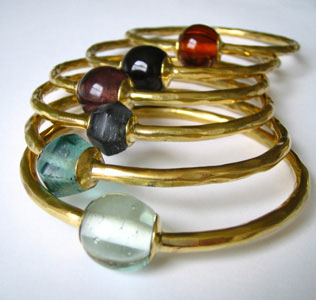 It might be a bit late to add anything to your Christmas list now but if you fancy treating yourself to a little something special, jewellery label Mirabelle have launched a gorgeous collection of gold and silver plated rings, bracelets and necklaces which could add some festive sparkle to your Christmas wardrobe.
The label works with fair trade suppliers and uses recycled materials to produce an eclectic collection; dainty golden chains with semi-precious stone pendants contrast with bold, chunky cuffs such as the 'harmonia' which has proved a favourite with Britain's newest fashion icon; Cheryl Cole (the jury's still out). Other highlights include the 'bola' bangles (pictured above) which are begging to be stacked for a statement look. Prices start at £30 so there's no excuse not to!
Visit www. mirabellejewellery.co.uk