Last Updated on 19th October 2013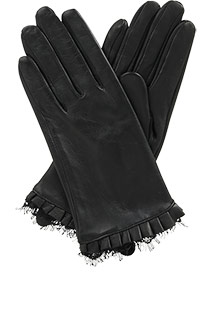 Leather gloves are having a moment. And it's a very well timed moment too. With the dank British winters turning increasingly soggy rather than cold, woollen gloves just won't do anymore.
But leather gloves are of course nothing new. So how come it's only now they are really making their presence felt fashion-wise?
Sadly, it's taken a while for high street and catwalk designers alike to truly embrace a garment that was previously confined to only aggressive drivers, men having a mid-life crisis, female golfers, goths and practitioners of bondage.
There's been the odd flirtation with the leather glove over the years but it's only very recently that stylish designs have hit the high street and what once was a purely functional item has gone fully fashion mainstream. Don't agree? Well, when was the last time most major ladies fashion retailers stocked a range of at least three or four pairs of them in one collection?
So, how the transition to modern, wearable wardrobe staple? Most of the high street stores are stocking vintage influenced designs in muted pastels as well as tans and blacks this winter.
However expect some increasingly kitsch and punky versions to filter through in the spring as the influence of Louis Vuitton's 80s punk kids fingerless versions in bubblegum pink start to inspire.
For the moment though, tread carefully with this trend. Pick designs in muted shades and look out for design details such as lace edging, pleats, bows, raised seams or buttons. And never go for a plain and basic black glove, unless of course you actually do plan on giving someone a good spanking.