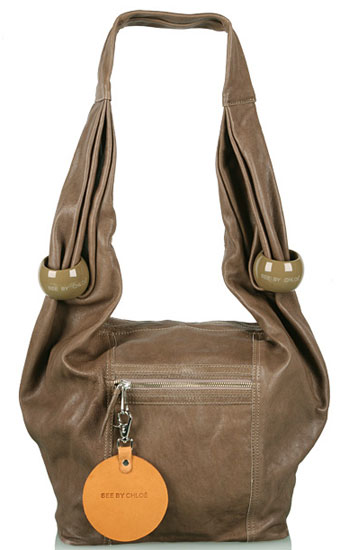 With news that Chanel is to lay off 200 members of staff hammering home the fact that we are in fact going through a global recession, (no matter how hard we try and hide from the whole mess), it's time to ask what does it really mean to be a recessionista? Is it to:
a) Find ways to purchase as much as possible for as little as possible?
b) Re-evaluate our spending habits and invest in quality items that will last?
c) Forego embellished and intricate design for functional pieces?
c) Trawl around charity shops and host swap parties?
For me, it's a combination of investing in items that are both functional and beautiful at the right price. And with that long intro, may I introduce you to this season's See by Chloe lambskin bucket bag. Bucket bags are pure function, they have the potential to carry everything minus the kitchen sink making them the perfect every day bag. I'm a fan of all things Chloe so the truth is I'm biased but I adore the added touch of the bangles on the strap. Another positive? Like a fine wine or Pharrell (whichever you prefer), this gorgeous bag is guaranteed to get better with age. £332 available at www.my-wardrobe.com.