Last Updated on 21st January 2009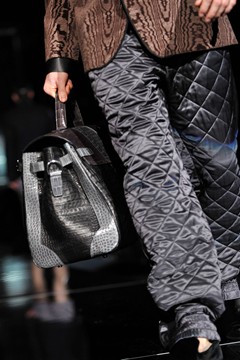 Giorgio Armani and Dolce & Gabbana. The fight has entirely engulfed Milan as well as dominating the Italian papers.
Armani has accused Stefano Gabbana and Domenico Dolce of copying one of his creations. The accusation of plagiarism came after D&G sent a pair of quilted trousers down the catwalk. However, Armani sent a similar pair, in a wet-look finish, down the catwalks in June.
Armani was quick to spot the similarities and did not disguise his anger, telling reporters: "Now they copy me. Tomorrow they will learn, I would understand if they were nobodies. But honestly!"
It is suspected that Armani will sue the fellow Italian designers, but D&G were not taking their accusation of plagiarism lightly:
"We surely have plenty to learn, but certainly not from him, the Armani style was never a source of inspiration for us and it is years since we have bothered to watch his collections." Ooo meow! D&G's statement ended with; "As Picasso used to say, copying from others is inevitable, but copying from oneself leads to sterility."
Sharpen your claws boys, the catfight begins!
[images]