Last Updated on 4th February 2009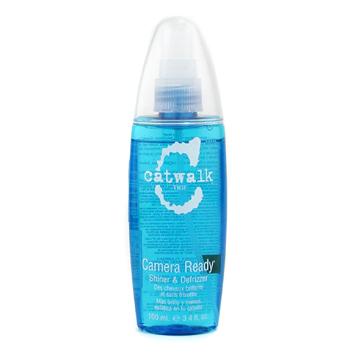 I wanted this product to be amazing, like most of the other Tigi products I've tried. Anyone with naturally curly hair will understand the elation four little words, Bed Head Curls Rock, can bring.
But sadly this time, Tigi's Catwalk Camera Ready Shiner and Defrizzer, just didn't quite do it.
First, and most irritatingly of all, there are no instructions on the bottle. Call me old fashioned, but I think it really shouldn't take a trawl across the internet and a number of experiments to find out how a product should be used.
But of course, once you know how, using Camera Ready is exceedingly simple. Spray sparingly and evenly when desired on wet or dry hair.
I tried both. On dry hair, it is pretty effective. It definitely adds shine but then so do a number of other products on the market that retail at significantly less than the £10.75 demanded for Camera Ready.
On wet hair however, although there was still shine, unfortunately there was also a good helping of frizz. My hair felt crispy and brittle rather than conditioned and had to be restyled. Oh dear Camera Ready.