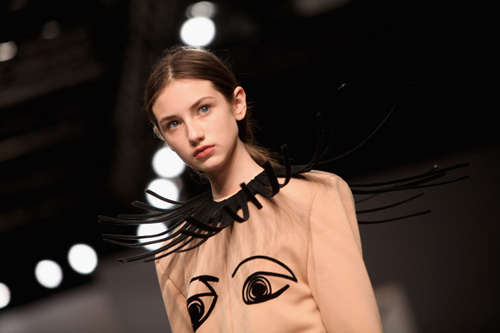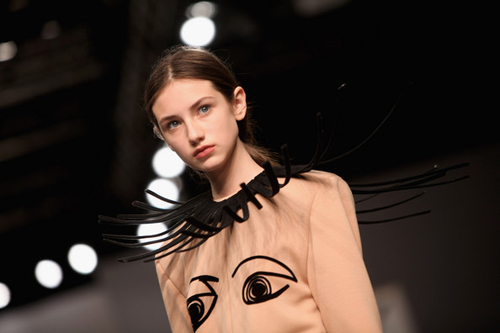 This is one of the shows that fashion lovelies flock to see. This show is almost a game, as each member of the audience sits backs and attempts to spot the 'next big thing.'
But of course, everything comes down to personal preference. And whilst the person next to you may be looking for another Christopher Kane, you may be looking for something completely new.
It was a mixed show, some designers were amazing, some clearly had the skills but lacked the direction, and others were so-so. However, I don't believe in ever knocking a graduate and technically they all showed great promise.






For me, there was one who I just fell totally in love with. And that was Laura Mackness, I was somewhat mortified to find at the end of the show that she had not won any of the big cash prizes. But she has been awarded the Armani Bursary. Her designs were fresh, exciting, and wearable and I felt showed great intelligence. It was almost a Christopher Kane/Luella hybrid collection, and so was fabulous. A cartoony style was simple and clean. Candy coloured shift dresses had one simple geometric shape in black. A pink coat with black squiggles that actually came off the coat signalled an excited gasp from my colleague. A very kooky yellow ensemble that was made of lolly pop sticks and had a drawn on woman's body was clever and again simple. To be simple is one of the hardest things to pull of well but Mackness did this like a pro.






Other worthy new designers are David Koma, Charlotte La Roche, Abigail Briggs and Chary Westberg. I am, afraid picking the most wearable as my favourites, there was a quite impressive collection of parachutes turning models into gigantic bows by Oden Wilson. But it was the others who stole the show. Koma was awarded the prestigious Harrods Design Award for his space age designs. They were well cut and used that sci-fi tubing and embellishment to good effect. They did remind a little of Krystof Strozyna and Kane, and I am thinking the sci-fi look is being done to death at the moment, but it was well cut and brilliantly executed. Briggs and Wetberg created interesting dresses, and La Roche's cartoon cutaway animals perhaps not the best-cut outfits. But the images and textures were fun and I can imagine them being applied to t-shirts and tops, which would attract cult appeal.
It was an interesting show; definitely all designers showed potential. Laura Mackness is still my winner though; fashion is in my opinion at its best when it has a sense of humour.
[Images]