Last Updated on 22nd February 2009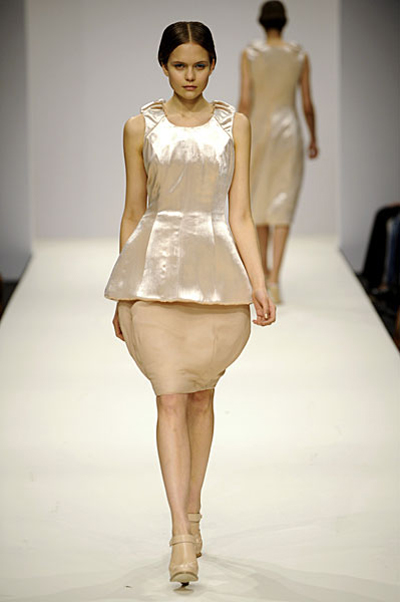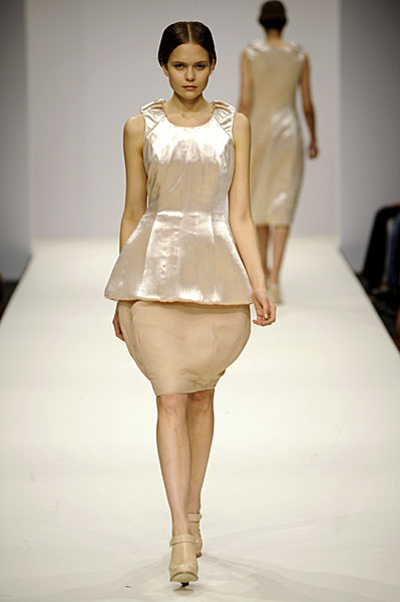 This was a surprisingly strange show. There are designers you rely on for beautiful simplicity, like Betty Jackson and Paul Smith, John Rocha is one of these. But this Autumn/Winter 09, he was clearly feeling creative.
But did this creativity pay off? I'm not so sure. If I were to describe the look of the show I would say it was Princess Elizabeth I sent to the future. Ok, I know that sounds weird, but there was a regal feel with oversized headbands, ruffs and skirts. The lines however were futuristic and padded hips and collars looked a little more Comme Des Garcons than Rocha.






So what were the highlights? I thought the nipped in waist suiting was gorgeous and the bold orange will look great in the winter. There was a really sexy tight fitting sheer knitted dress, which was paired with a stunning handbag, shaped like a bean. The princess nudes also looked cute and feminine.






As for the lowlights, I did not like the strange exaggerated skirting. I am usually a fan of big skirts, but up close, they looked disfiguring. I also didn't care much for the tweed section of the show, I don't really get the tweed swimsuit. The jury's still out on the fur, part of me was quite taken with the idea of a cropped fur jumper, and then part thought it was all a little excessive.
The key aspects were the tailoring, dropped waists and full skirts, Rocha's technical ability cannot be called into question. But I felt that it lacked the stylish beauty of other collections.