Last Updated on 23rd February 2009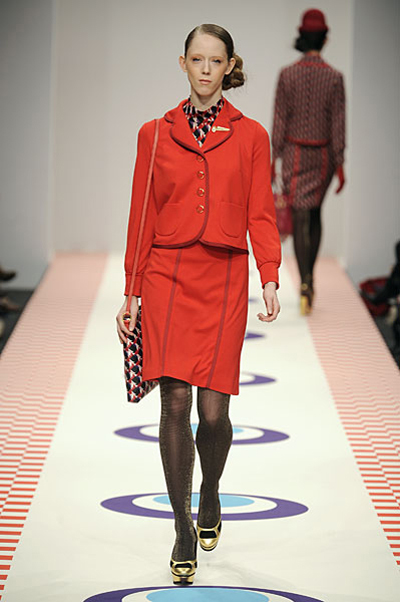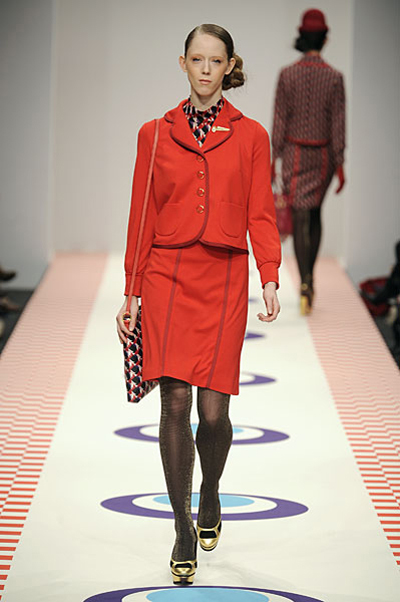 "Come fly with me, let's fly, let's fly away this was the Eley Kishimoto theme. After handing over my invite which looked like a boarding pass, I was swept to my seat all to the sound of airport lounge chatter which came over the speakers. The show then began, and an air stewardess inspired collection strutted down the runway.
This was a grown up collection for the design duo, the spring/summer 09 was all childlike prints and cutesy trapeze dresses. This was more sophisticated yet that optimistic slant still remains. It was all very Marc Jacobs, right down to the gold button detailing. However, it was the sheer contrast of cuts and styles that was its USP.






This was a very full show, there were so many outfits, it is impossible to go into much detail without writing an essay. But in essence they all seemed to work. There was of course their fabulous trademark printed tights. And the colour scheme was gorgeous, the perfect blend of brights and winter darks. The muted tones of mustard, teal, burgundy and orange, looked funky and retro. And the graphic prints that they're famous for, were sublime. Whether it was the chic graphics or sexy tiger prints, there was a print to suit anyone. There was also a lot of plain outfits, and dogtooth check. There were three outfits that particularly stood out for me, one was a black dress with blue piping, I just loved the 40s style of it. There was also a great oversized teal number that looked demure yet sexy, and I am loving the tiger graphic jumper.






It was a really strong collection, it worked well together and it felt consistent. It's stylish, wearable and different. I think we have found the new Marc Jacobs.