Last Updated on 24th February 2009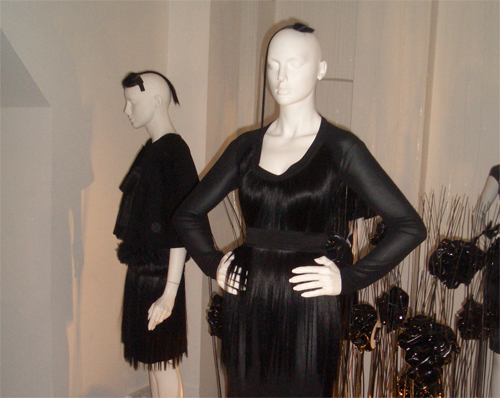 Aptly named 'Exotic', Modernist's new collection incorporates natural and man-made materials ranging from Crocodile to goat and silk to cashmere, contrasting in a way that produces sumptuous texture, whilst not detracting from the structured shapes and clean lines that point to one half of the design duo's (Abdul Koroma) previous education in architecture.
With focus placed upon the variety of fabrics, the collection is mostly black, creating a mysterious quality that characterises the Modernist girl. Sheer panels break up streamlined dresses and black headpieces resemble birds and flowers, taking the Exotic theme to a new level.
The one source of colour in the collection was a gorgeous wrap-around floor-length gown which was a dusky, almost grassy green that fell to the floor in a train; just asking for a trip down the red carpet. 'Exotic' has an edgy yet focussed feel, and despite some questionable additions – namely the cropped black jacket with shoulder-pads that Brandon Flowers would be proud of – Modernist have achieved an original collection of contrasts that should only further establish Abdul Koroma and Andrew Jones as a great partnership in the fashion world.