Last Updated on 23rd February 2009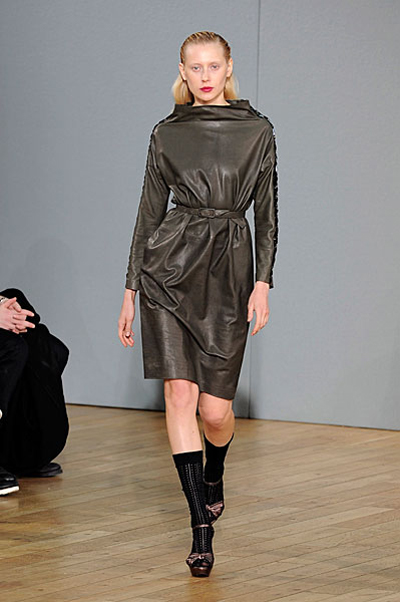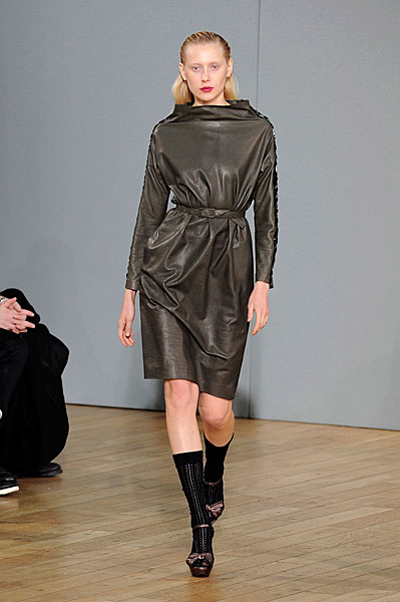 This was a shockingly good show. Nicole Farhi is one of those designers who is famous for being classic. She can be relied on for the fail safe fashion, constantly churning out the same cuts, fabrics and colours. But for Autumn/Winter 09 it would seem the French-born designer has had something of an epiphany.
The photographs in all fairness do not do the collection justice. It was a strong range, with a heavy emphasis on colour and design. The pieces were right on trend, those sci-fi shoulders were even present.






The shows styling was also great, knee high socks were paired with towering almost stripper like heels. Hot pink long length gloves added a modern twist, whilst skinny snake effect belts added shape and definition.
Key items included the fabulous leather dress with bronze studs, the wetlook dresses and the fabulous giant bow dresses. The knitwear was also right on trend, for a woman who usually sends down a ton of cardigans, it was amazing to see form fitting, on trend knits with perfect embellishment.






In fact, this has been one of the strongest shows. It is a dangerous move, as she may inadvertently alienate her loyal, core customer base. But she is now more likely to attract a younger, more fashion friendly audience. I am honestly, in such shock, and exclaimed loudly as the second model appeared "oh my god, this is actually good which did attract a few looks, but I know they were thinking the same.