Last Updated on 23rd February 2009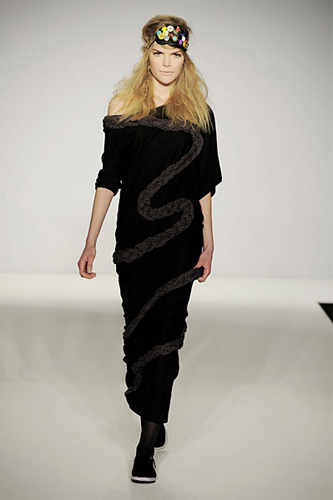 While the majority of London's fashion elite battled for a seat in the main tent outside the natural history museum, a cutting-edge crowd was gathering at the Vauxhall fashion scout tent to watch shows from up and coming London designers. The day kicked off 45 minutes late with a lacklustre show from ethical designer Julia Smith. A confused collection that combined 80's structure with oversized cable knit and button trimmings, the show lacked a cohesive central theme. That said, Smith is undoubtedly a fine tailor, and highlights included perfectly balanced jackets and a skin-tight white dress embellished with red bows.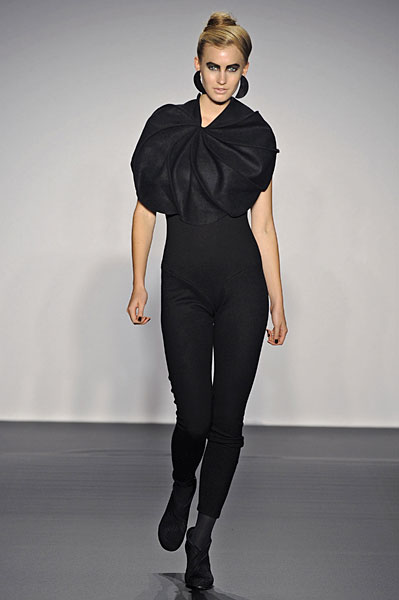 But the standard of the collections improved drastically as the day progressed. Alexandra Groover, known for her signature use of black fabric, attracted a large and curious crowd and truly deserved the applause she received at the end. With a black palette the focus shifted onto the structure and texture of the garments and invited an unusual level of scrutiny. Heavy felted wool contrasted with satins to create fossil-like layers or shell inspired swirled structures around the body. Her simpler, casual pieces were less successful than more complex pieces which included a stand out moon-shaped cowl and voluminous cocoon dress.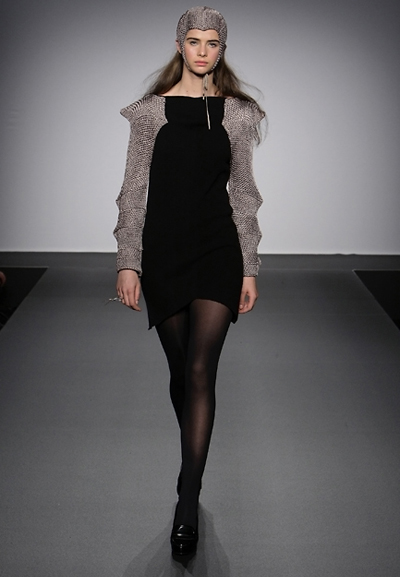 The day finished off with Vauxhall's Ones to Watch show, which combined mini-collections from four designers, Lu Flux, Alice Palmer, Might-t by Kumiko Watari and Studio_805. Showing to a packed and excitable room, the designers offered four very different collections that lived up to the promise of the show's title. Studio_805 injected a shot of colour and fun into the proceedings with a high octane red and white collection, sending models down the catwalk with coloured paper taped over their mouths. Simple shapes were given a new lease of life with red and white candy-stripes and sharp cutting, while square headpieces underlined the designer's sense of humour.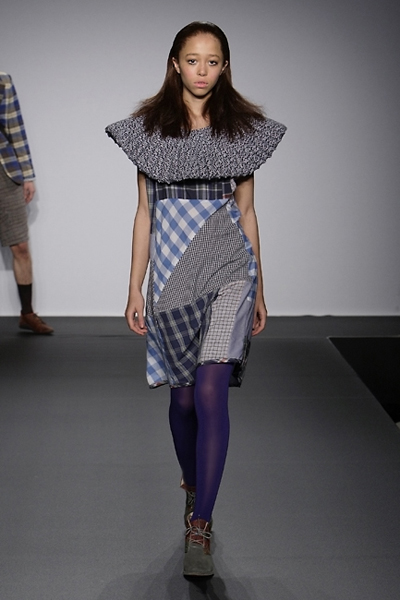 But for wearable, elegant shapes Alice Palmer was hard to beat, sending down a gently monochrome collection that featured delicate printed designs and peak-shouldered capes.