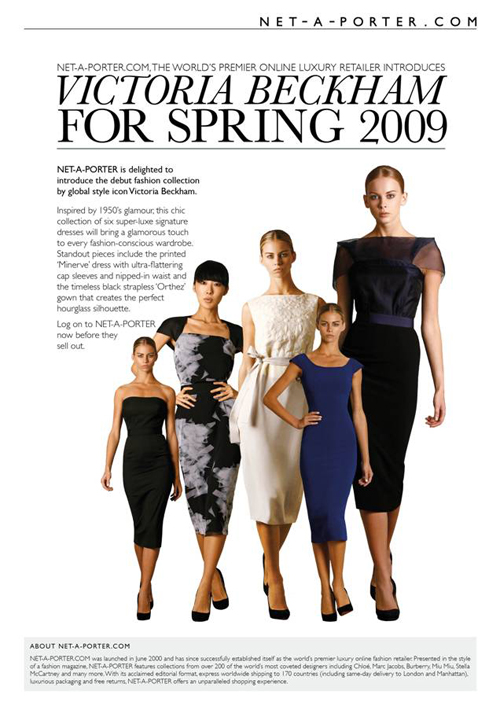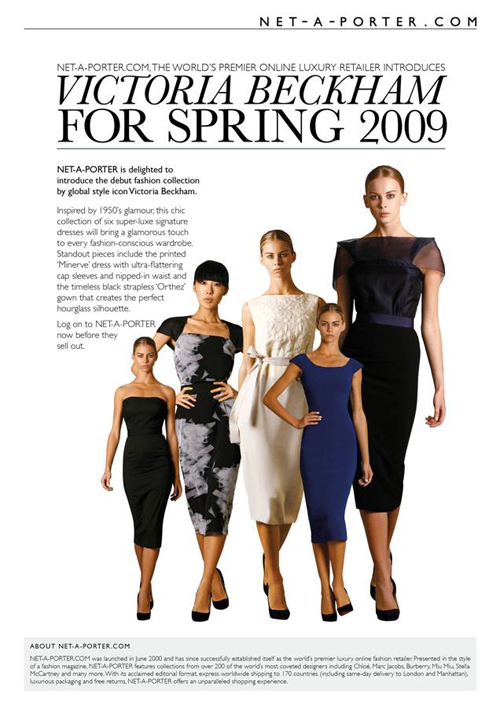 Victoria's latest collection caused quite a stir once again at New York Fashion Week. Still journalists are shocked that she can actually design, that she is actually good at it, and that she knows what she's talking about. Her last line sold out in only a matter of moments, and I am sure this collection will be no different.
Net-a-Porter have just announced that they will be stocking the latest collection. All six dresses will launch next week and you can sign up to make sure you get your update for one of her lustworthy creations.
Her dresses are stunning and really give Roland Mouret a run for his money. It is of course very Victoria but they are dresses to make women feel sexy. They are all about the sensual hourglass silhouette and the printed 'Minerve' is my personal favourite.
But it isn't just Victoria who will be causing a stir. Recent addition to on schedule at LFW, Eun Jeong is also going to be stocked on the wondrous site. Eun won the Fashion Fringe at Convent Garden award in 2008, and judging by the fashion lovelies' gasps of excitement and nods of approval at her show on Friday, she is going to be a success. It's her unusual cuts and mix of fabrics that makes her stand out from the fashion crowd. Taking harsh lines or difficult to wear styles and using soft fabrics to create these lovely, wearable items.
Make sure you check out both Victoria and Eun; if you're looking to buy then definitely act fast. Christopher Kane's Spring/Summer 09 collection recently went on sale and it was sold out in less than 24 hours of going live. Although the great thing about online shopping, is that you don't have any pushing, but there is of course crashing. Well good luck e-shoppers.