Last Updated on 25th February 2009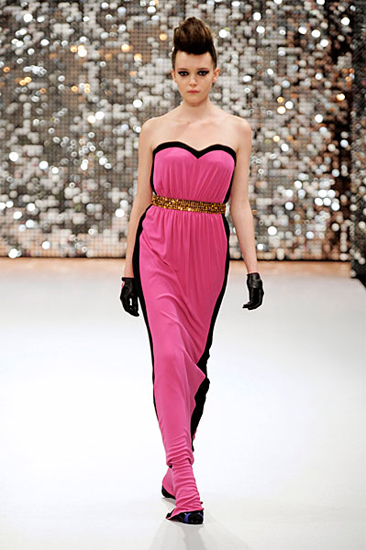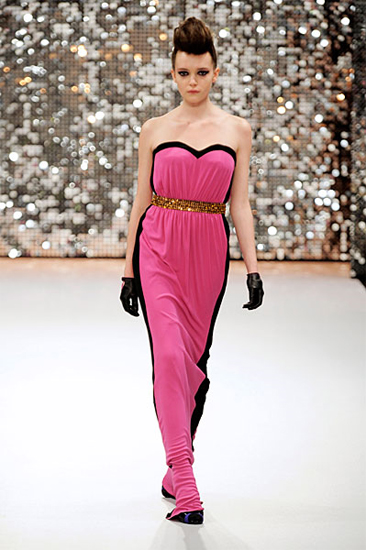 There was much to love about Ashley Isham's collection. Models with quiff's that Prince would be proud of strutted their way down the catwalk in a selection of gowns influenced by 40s and 80s glamour. Goddess gowns , Isham's signature style , reigned supreme, with Grecian style frocks in wispy white. This was clearly a man having fun with texture, as gown after gown of embellished jacquard, satins, jersey and organza appeared.
But, there was nothing staggeringly new here and most cuts and embellishments looked boringly familiar. Yellow and purple jewel encrusted halter dresses were just a little safe and reminiscent of something you could pick up from just about any high street chain.
The strongest looks from the collection were the asymmetrical draped jersey dresses, with swatches of copper coloured jersey nipped in at the waist and secured with a brooch. Indeed brooches dominated in this show, as did the black leather and colour pop biker gloves that added a hard edge to many of the outfits. Watch out for these come autumn.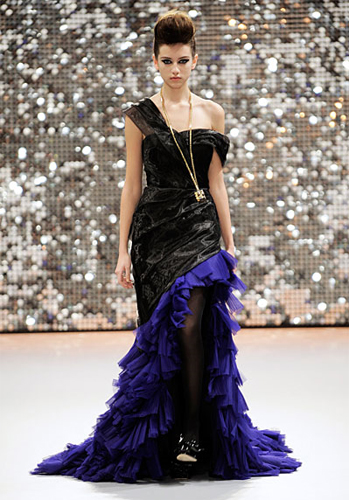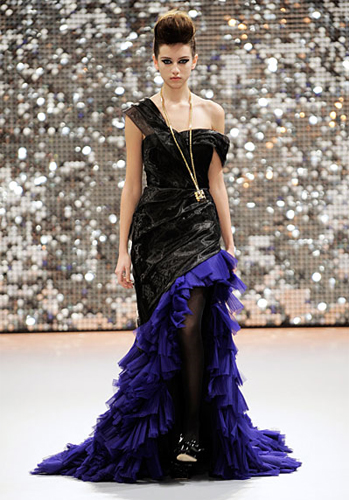 The nude jacquard evening gowns, again asymmetric, especially one in particular encrusted with over-sized sequinned flowers were also a triumph and are just crying out for a red carpet.
Thankfully, there were also bold splashes of colour in the show, something missing from many others this week, with emerald, red and fuchsia.
But if the cut of the gowns and overall styling lacked cohesion, which they certainly did, Isham pulled it back by giving every garment a cluster of beaded embellishment or glitzy brooch, on the naval, hips and shoulders.