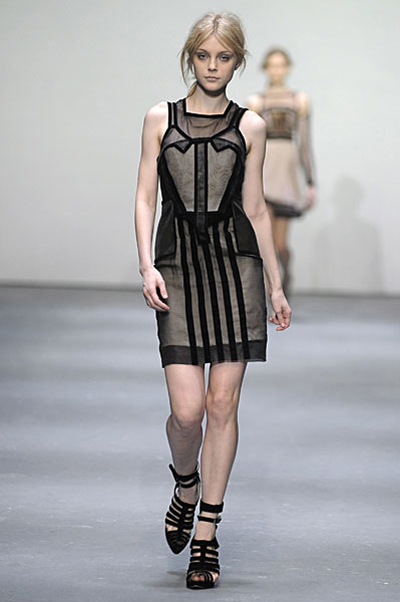 For the Spring/Summer 09 shows, I appeared to be one of the only people who wasn't in awe of Kane's offering. Yes I love those acid brights, and I am rather partial to a bit of leopard print. But I really didn't take to the scalloped almost stegosaurus like edging and those monkey motifs frightened me. But this Autumn/Winter 09 collection, I really get the hype.
It is tough for designers like Christopher Kane who we put on a pedestal and always expect great things. And for his latest offering, Kane's changed track with a paired back minimalism. It is slick and really rather refined.



The collection, a story of lines, was a whole new take on graphics. Rather than the prints seen all over the catwalks, Kane opted for simple checks and lines, diagonal, vertical, horizontal, it's all about the lines.
With a simple colour palette, the clothes were forced to speak for themselves, and they were shouting "grown up style". The actual styling for the show was perfect, the oversized suit jackets paired with skirts, and the sweatshirts over the organza dresses look fantastic. Pairing these beautiful dresses with brogues, shouldn't work but it really really does.



Strong, feminine silhouettes have been created, and you can see some of that sci-fi style creeping in. For my personal preference I was not as taken with the metallic dresses, they don't seem to have that same glamour that the whites and neutrals have. I also don't think that the cuts are as flattering on these designs.
It is a really strong line for the boy wonder. He has surpassed himself.