Last Updated on 25th February 2009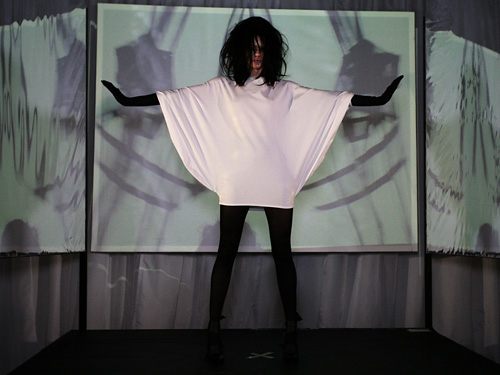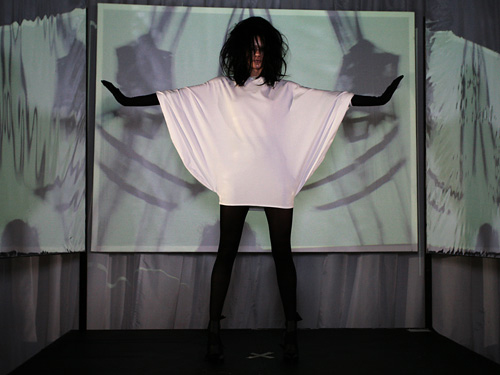 Expectations rose as a packed-out audience sipped their Bacardi's, looking on at the lengthy preparation for Olanic's AW09 presentation at London Fashion Week. Designer Nicola Taylor was tipped by Vogue as "one to watch" back in SS08 and returned to Vauxhall Fashion Scout after receiving rave reviews last season.
Titled, 'Mirror Mirror',  Taylor's collection was displayed in an artistic and unusual fashion, upon a stage of mirrors complete with video montage backdrop (hmm, always a slight worry…). Severely back combed models were filmed, exploring lines of symmetry against mirrors while draped in Olanic attire and backed by a heavy dose of pop music.  The models then took to the stage one-by-one, standing in front of the screen in their youthful, monochrome outfits.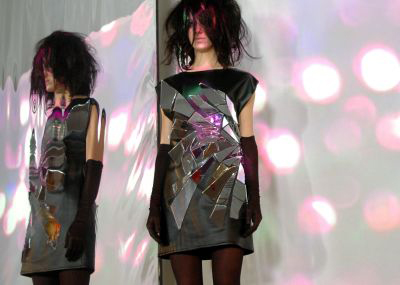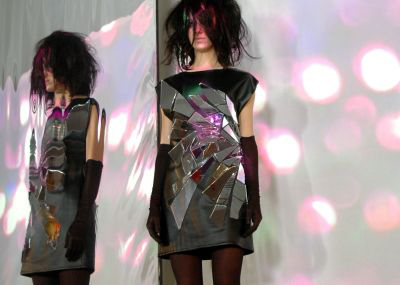 Featuring simple mini-dresses, nipped in waists and elbow-length black gloves, the collection was entirely wearable, but there was something lacking from Taylor's collection, besides an injection of colour.
Perhaps my opinion is obscured by the fact that I was unable to vacate my limited-viewing post near the back of the small venue due to the sheer volume of people present, and that standing at a whopping 5ft3″, neck craning is definitely something I should put on my CV. These issues aside however, I did find the collection a little dull. The block palettes were fragmented occasionally with the interjection of reflective sequins, echoing the theme of symmetry that ran through the presentation, while a grey, oversized woollen bow scarf felt pleasantly, if very vaguely reminiscent of Viktor & Rolf's 'Flowerbomb'.
Aside from Taylor's creative demonstration of 'Mirror Mirror', the collection was an unexpected disappointment and while she has yet again captured the playfulness of youth, and created wearable pieces that might stand the test of time in today's financial meltdown, I left the show feeling a little uninspired.