Last Updated on 25th February 2009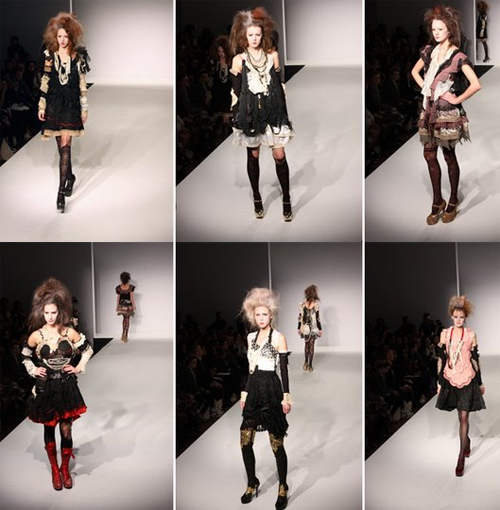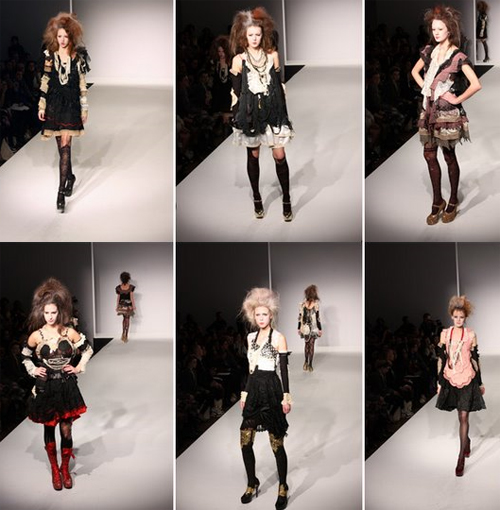 Referencing Italian horror director Dario Argento's 'Phenomena' (1985) in the pre text to 'Victim Wonder' designer Mei Hui Lei immediately gave us the impression that this was going to be a powerful runway of dread and seduction. 'Did you ever wonder why there are so few beautiful villains?' she questioned. In 'Victim Wonder', Mei Hui Lei presented her terrifying, yet irresistible muse: 'Victim's punk Lolita'.
Models walked the runway to dramatic backing music and adorned in what appeared to be endless layers of detailed, Victorian fabrics. Dripping in beads and sequins they somehow managed not to stumble in outrageous platform heels. Lace and ruffles piled together gave the look a romantic glamour, enabling the effortless flow of the garments. One pair of thigh-high boots in particular gave further depth to an outfit, with a cut-out pattern down the whole leg, making the hint of colour from the hosiery visible.
Detached sleeves featured heavily, with elbow patches of lace; models wore ripped tights, layered to juxtapose blood red and black; and waists were occasionally cinched with thick belts dressed in more beads. The attention to detail throughout the collection was obvious and it was hard not to get excited by the gothic, romantic vision that Mei Hui Lei captured.
Yes, new romance has been done, but this felt fresh, and the response from the audience was evident from the rapturous applause Mei Hui Lei received as she bounded out enthusiastically, joining her models. A thoroughly enjoyable show.