Last Updated on 26th February 2009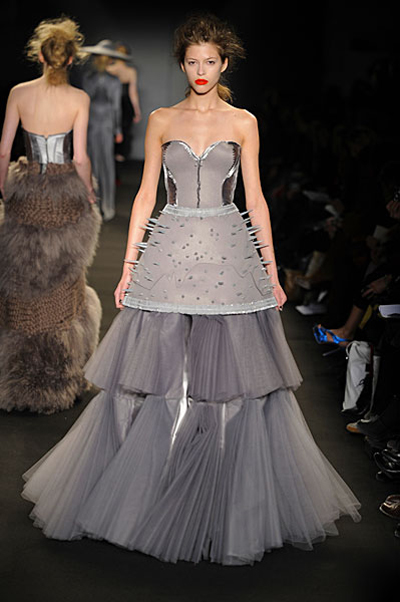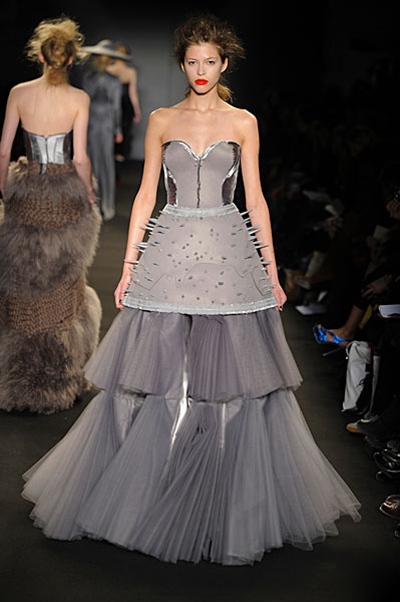 Is there nothing that Giles Deacon can't do? He has produced yet another stellar catwalk collection. The inspiration behind the show was Giles' days at Art School, which is why he treated us to creative, punky finishes and expressive outfits. Fabulous hats by Stephen Jones just added to the drama, not forgetting those unbelievable, drool worthy thigh high boots by Christian Louboutin.



Who would have ever thought sheepskin mixed with fishing fly prints, latex, leather and spikes could work so well? This is a credit to Giles; he can create brilliance out of the most unlikely sources. He understands that balance between high drama and clothes we want to own and wear. OK, so it's unlikely that many of you will be heading out in the sheepskin cocoon but I think it's fair to say there are many wearable designs. And for the more avant-garde styles, we can appreciate them for their beauty and brilliant design.
So what worked? I think everything did in its own way; the colour scheme was gorgeous, greys, blacks, golds and hot pinks. And whether it was the form fitting pencil dresses, the space age shifts, the mini dresses or even those blown up leopard print jumpers, they all looked stylish and interesting. I don't think the corset top and trouser combo or the high shine leather dress worked as well as other designs, but they added to the overall theme.



There is such beauty in these designs; even with the giant spikes and laser cut fabrics they still celebrate the female form. On the whole the collection possessed a sense of old school glamour but with a space age twist, perhaps if you were to send Marilyn Monroe off to the future this is exactly what she would have come back wearing. Fashion is at its best when it challenges your expectations, Giles you really are a style genius!
[Images: Catwalking.com]