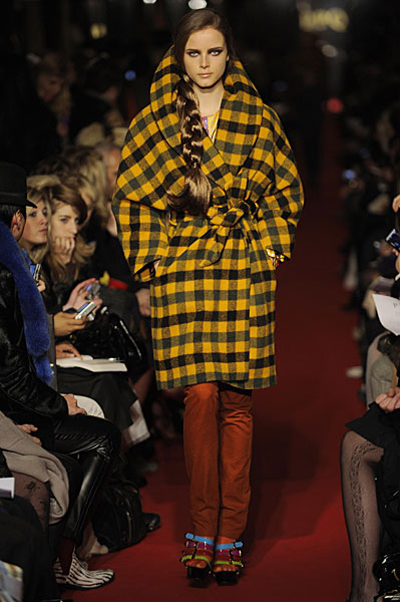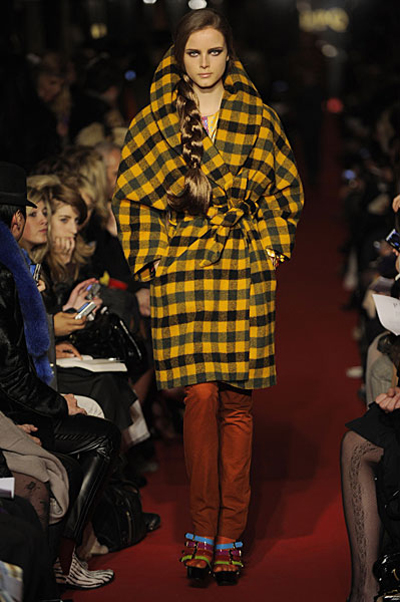 You can always rely on PPQ to bring colour to Fashion Week. Their Autumn/Winter 09 palette is full of pistachios, oranges, royal blue and very bright reds. I think the best way to describe the collection is Park Lane Princess meets 60s style. The PPQ show is always a star-studded event and sure enough Alexa and Peaches were there, with Daisy, Alice and Pixie strutting their stuff down the runway. But the show ran so late, caused such bedlam that journalists were left really rather displeased. The show ran in Burlington Arcade, where PPQ currently has a pop up shop. This was one of the main criticisms of the presentation, there was no space. Looking at the models, it was surprising they didn't trip over all those feet and handbags.



But as for the collection, it was very good. Elegant jumpsuits were seen alongside smart skirts and shirts, and cute pinafores. This is actually one of their better collections, I often feel PPQ coast along creating nice designs but being a real success thanks to their celeb following. I thought this was a much more design orientated collection, gone are the jerseys and simple shapes, and instead we are greeted to tailoring and fabulous layering.
I thought the pinafore jumpsuit with retro print shirt worked really well. It's quirky enough to get you noticed without making you look like a slave to the trends. The tangerine shades were stunning particularly the fluid silk floor length dress and the tight fitting pencil skirt. The use of ruffles is fun, and those yellow and black checks work really well. The lines are good, flattering, wearable and an outfit for every occasion.



I am less sure about the stripy jersey jumpsuit, in orange and black it reminds me a little of Halloween inspired pyjamas. And I'm still not sold on this satin short trend; I really don't think they're flattering. I also thought Alice Dellal's velvet number looked cumbersome, but then this may be due to the fact that she was having trouble getting down the runway in it.
It is a really fun collection, blending patchworks with colour and then stylish blacks. There's just something about PPQ that makes you feel cool. And every time I look at this range, I seem to like it even more.