Last Updated on 5th March 2009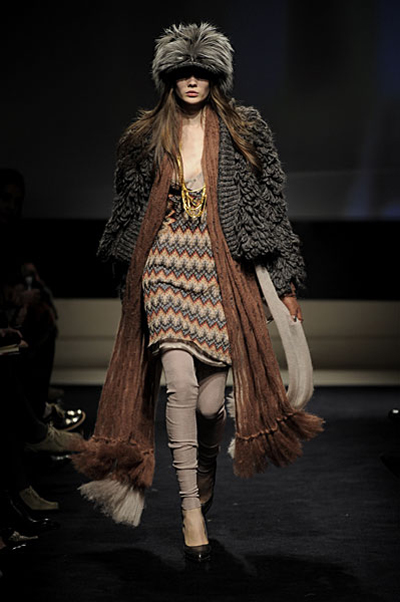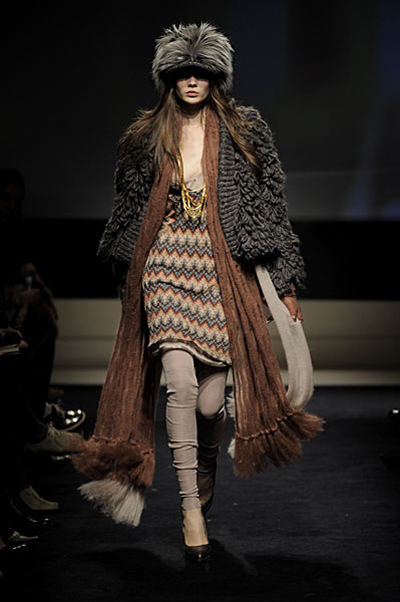 If you've ever wondered about how to layer successfully, take a note from this show. Missoni took layering to the limit and pulled it off brilliantly. The best way to describe the look is, if you told a group of fashionistas that they were going trekking across the Sahara, this is probably what they would turn up wearing.



Swathes of giant knitted scarves, covered gorgeous printed dresses and cobweb like knits. These were paired with knitted leggings and short shorts. Fur handbags, gold chains, Cossack hats and beanies just finished off the whole look. The palette was particularly beautiful, nudes and beiges were highlighted with muted blues, peaches and coral pinks. And of course you couldn't have a Missoni collection without the trademark zig zag.
This was a really diverse look for Missoni. Usually ones to stick to pretty but fairly conservative styles. They have really launched themselves into a new direction. It's a dramatic look, and I really like the pairing of shorts with knitted leggings and those giant cowl neck jumper dresses. I am particularly in love with the patterned knitted leggings, they look like the perfect winter wardrobe item; comfortable and super stylish.



The combination of layers is key to this look; oversized knits are paired with tight fitting ones and structured coats, not forgetting hints of gold lame and those beautiful foliage prints. It is a flawless collection. From the individual pieces to the styling, it just works. It seems fresh and modern; this is a collection to put Missoni back at the fashion forefront. Watch out Louise Goldin, Missoni are proving they've still got what it takes in the knitwear department.