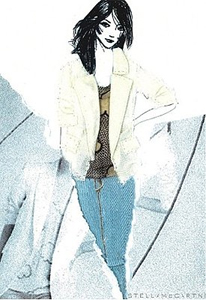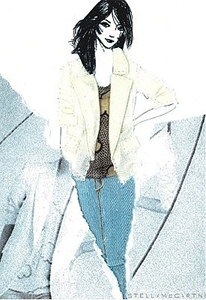 Hold on to your purses ladies. Net-a-Porter are determined to force us to ditch the high street permanently and shop online forever. Following in the footsteps of Preen, none other than top designer, Stella McCartney has created a capsule collection for the e-tailer.
Both Stella and Net-a-Porter will appeal to our current shopping habits by providing us ladies with a "best of collection which according to McCartney has everything we'll need to build a wardrobe.
The line includes 17 looks and boasts tailored suits, a trenchcoat, skinny jeans and two shoe and handbag styles. Sounds like the collection will be perfect for those of us only willing to part with our hard earned cash if the piece is worth the investment…
Stella McCartney for Net-a-Porter is scheduled to launch in May and prices will range from $495 to $2495. The collaboration is of course a major coup for Net-a-Porter. Founder Natalie Massenet described the partnership as "the most significant commercial endeavour to date.