Last Updated on 19th October 2013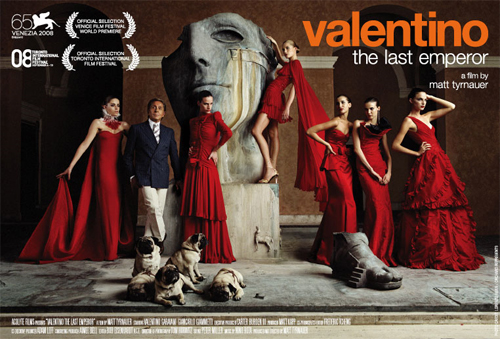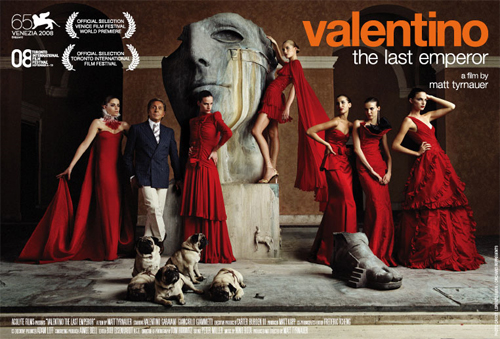 I was enthralled by Lagerfeld Confidential, touched by the two Yves Saint Laurent documentaries, and can barely contain my curiosity as to the upcoming R.J. Cutler documentary The September Issue (which chronicles the making of Vogue's September 2007 issue). That said with all the hype Valentino: The Last Emperor has been getting, I knew to expect a film that would not easily be outshined by any of the other fashion heavyweight's documentaries.
As I walked into the screening room I mused with anticipation , would there be talks of Valentino's retirement? What sorts of insights will we get as to Valentino's lifestyle and work aesthetic? Will the accounts of the master's demeanor live up to their juicy expectations? The film lived-up to my lofty hopes , and so much more , as it documented the colorful and dramatic final years of Valentino's unparalleled career while exploring the larger theme of fashion as a business versus an art form.
The flick's director, Matt Tyrnauer, is Vanity Fair's editor-at-large and the author of Valentino Garavani: Una Grande Storia Italiana. After interviewing the couture master and his former boyfriend and longtime business partner Giancarlo Giammetti, Tyrnauer approached both men about doing a full-length documentary. The resulting film was shot between June 2005 and July 2007 and over 250 hours of footage were captured. Unlike what the two men , and the public , may have thought however, there was to be no sugar coating. Giancarlo is brutally honest when talking about his partner's temperament and you get a true feel for Valentino's passion, devotion, and stubbornness when you see him behind-the-scenes in his work environment.
Valentino has always seemed in complete control of his image — a jet-setting uber-sophisticate with impeccable taste is often what comes to mind when his name is brought-up , and with a title like The Last Emperor we do, of course, get a feel for Valentino's majestic lifestyle. Ornate mansions, skiing in Gstaad, warm summer days on a yacht, and fabulous parties aside however, the documentary tackles more than just superficial glamour. At the heart of the film is Valentino's relationship with Giancarlo. The two men love and fight with equal passion, fully aware of how crucial they are to one another. Of particular note was scene in which Valentino accepts France's Legion of Honor and tearfully thanks his life-long partner. Matteo Marzotto, who at the time was the chairman of the Valentino Fashion Group, remarks afterwards, "I don't think Valentino would have been the same without Giancarlo. Not even half and not even one-third of it.
Along the way we witness Valentino jetting around the world via private jet—where four seats are reserved for the designer's pugs , as Giancarlo and the Valentino team plan a massive $20 million, three-day fashion extravaganza to mark Valentino's 45-year career, and we catch glimpses of designers (Tom Ford, Giorgio Armani, Karl Lagerfeld, Donatella Versace), models (Elizabeth Hurley, Elle Macpherson), movie stars (Joan Collins, Anne Hathaway), esteemed members of the press (Anna Wintour, Cathy Horyn, Andre Leon Talley, Hamish Bowles, Linda Fargo), and a variety of aristocrats and socialites. All the while in the background looms the threat of Valentino's retirement and Permira's complete takeover of his namesake company.
Ultimately I left the film saddened at how the fashion industry has turned from one of passion to one of commerce and at the hardship that must have come with being confronted with the final act of such a fruitful career. Inevitable, but I could not get Giancarlo's words , "you have to choose between going on until the end of your life or until somebody tells you, 'We need somebody else now' , out of my head. That somebody, of course, turned out to be Alessandra Facchinetti who at the age of 35 took over as Valentino's womenswear creative director only to be dropped two seasons later for Maria Grazia Chiuri and Pier Paolo Piccioli. The new design duo has only shown one Haute Couture collection thus far and though it was endorsed by Valentino, it only received a lukewarm reception from the press.
Will the Valentino empire succeed without its original master? That is truly something only time can tell.