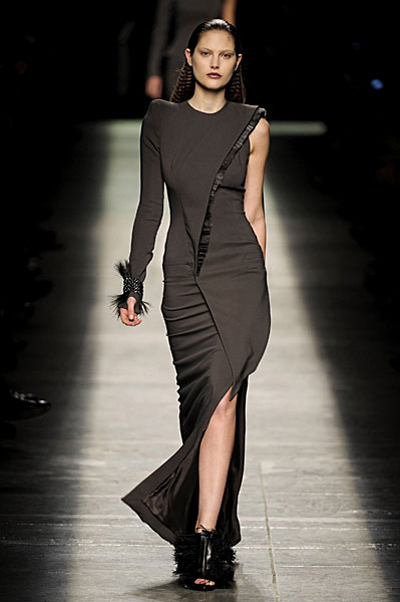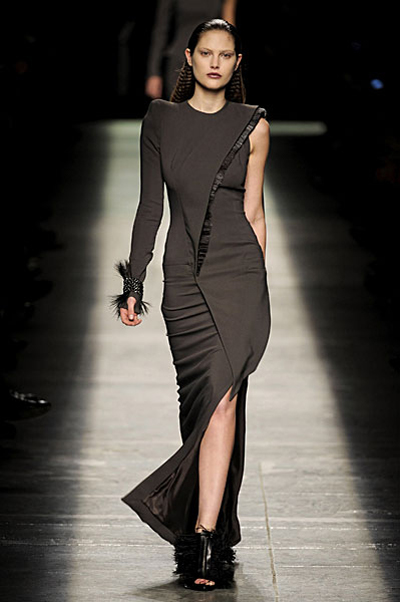 If you're looking for a brightly coloured, happy, cheery Autumn/Winter 09 wardrobe then look away now. But if you want beautiful, architecturally designed outfits then Givenchy is the one for you.
This was a space age show, right down to the Princess Leia buns. The cuts particularly the shoulders and trousers were carefully tailored sci-fi shapes. The fur dresses looked like something out of Star Wars and aren't the most wearable of creations but they are still quite spectacular.



The floor length dresses were the highlight, although the lace and stud dresses were the perfect blend of beauty and sexy. The fishing net dress and top were less desirable and seemed a little too gothic for this sci-fi tough girl collection.
The palette although dark was still very beautiful, the blacks turned to charcoal, then navy, cream into white. Each colourway brought a whole new look, and provided a balance between the incredibly feminine, the heavily structured and the rock chick looks.



Riccardo Tisci is renowned for his gothic style but this felt more grown up, whilst it retained the tough girl attitude it was slick and wearable.