Last Updated on 10th March 2009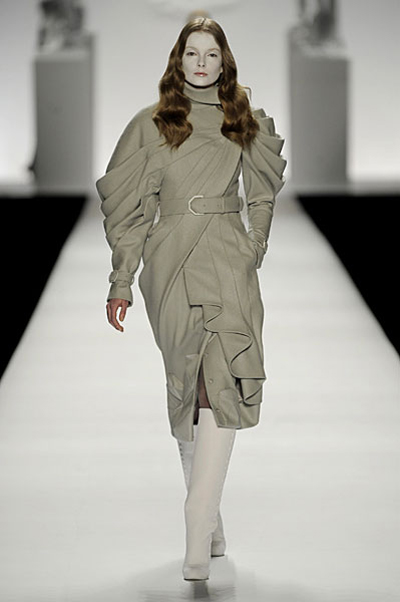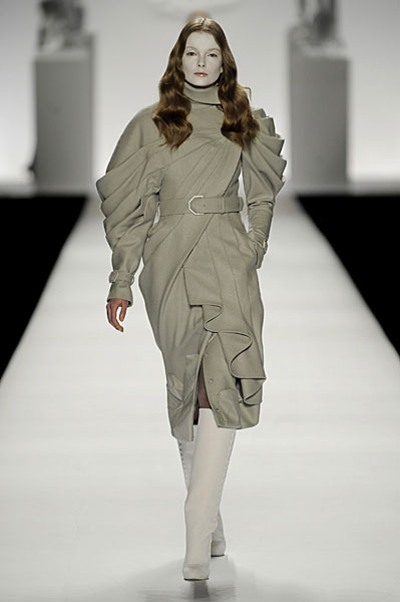 One of the highlights of last year was the Viktor and Rolf exhibition. It was a magical walk through the story of their designs and told rather wonderfully through giant dolls. Well this Autumn/Winter 09 show continued their flair for the creative and sent down models painted as white as porcelain dolls in clothes that were startlingly beautiful.



It was a beautifully soft colour scheme, dove greys, delicate charcoals, pale pinks and sumptuous tans. Structured almost prism like shapes sat lovingly alongside softer fabrics. There was a simplicity not often seen in a Viktor & Rolf show. The design duo tend to lean towards the theatrical, and although there were dramatic features this was in truth a very wearable collection.
The thigh high white boots, really shouldn't work but they really did. The floor length gowns were heavily structured and incredibly glamorous. There were a pair of swirl sequin trousers that didn't quite work or flow. They not so magically managed to make a stunningly beautiful model look rather chunky, so it's unlikely they'll be catching on. But the vast majority of outfits worked perfectly, particularly the coats and skirts.



This is such a strong collection for Viktor & Rolf, although I do miss their almost couture creations. This was quite tame in comparison, but still very very beautiful, and extremely slick.