Last Updated on 19th March 2011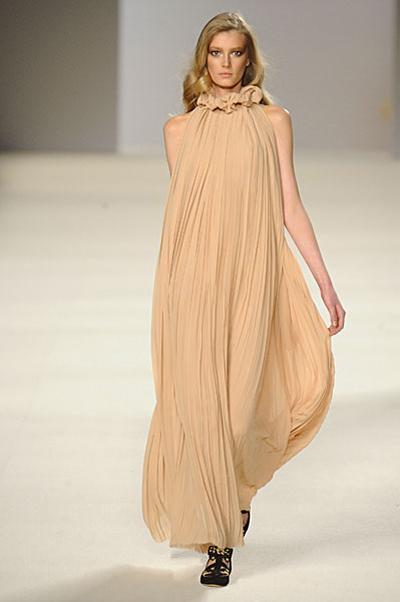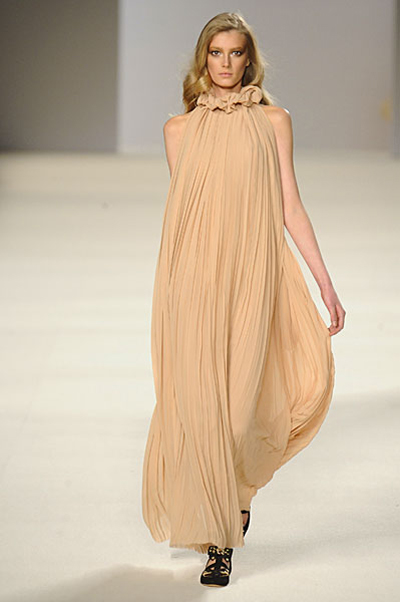 This is only the second show for Chloe's head of design Hannah MacGibbon. And she has taken it back to its dreamier days of Phoebe Philo. To when Chloe was girly, chic and had a grown up cuteness.



This is a good beginning for the designer, and is a good sign for all those who loved old Chloe. This is not so say it is a repeat of earlier lines, it just has the same feel. There was a real laidback look to this show. The oversized trousers with turn ups were right on trend, as were the velvet ensembles. The jumpsuits and shorts were particularly charming. The leather shorts looked surprisingly wearable and the one shouldered velvet jumpsuit was incredibly glamorous.
It was a deliciously soft palette, ochres alongside creams and charcoals looked very autumn friendly. There is something about khaki that always looks chic, and this was no exception. The peach pleats looked so beautifully feminine, and I would recommend this collection to anyone who spends their winters abroad.



Excluding the coats, this was quite a summery collection, I doubt there are many of you planning on going out in the winter in a pair of shorts and no tights. But the shapes were very pretty and the cuts were flattering. It is a show likely to restore faith in the Chloe brand from die-hard fans. For everyone else there were certainly elements to be excited about, particularly the giant handbags, but it wasn't a show to stop you in your tracks.