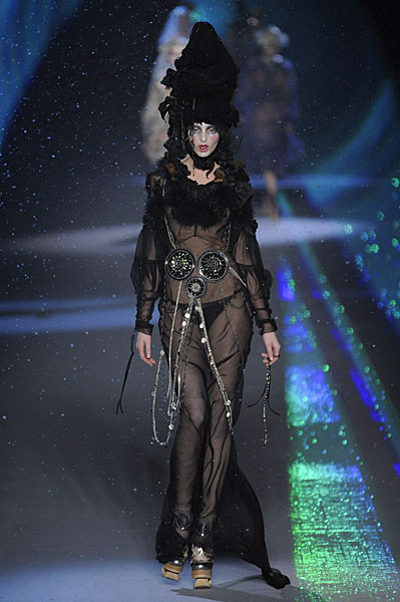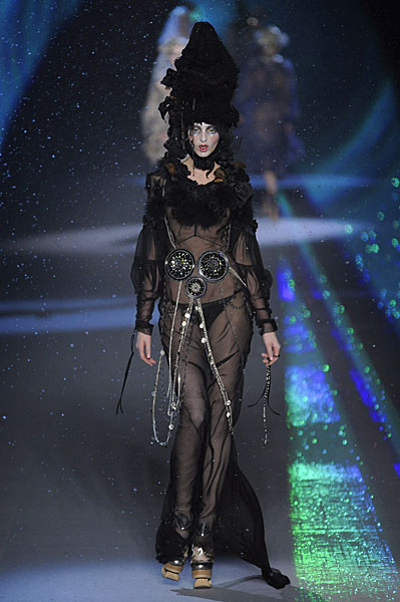 You can always rely on John Galliano to bring some eccentricity to Fashion Week and Autumn/Winter 09 was no exception. One can only imagine his inspiration behind this show; I like to think a babushka crossed with a Russian Tsarina. Yes this was a very strange show indeed.
Galliano is a great designer, his work at Dior is the stuff of dreams and his couture collections steal the show every year. But this show just missed the mark. Perhaps McQueen's delicious equally bizarre offering spoilt me, but this couture/ready to wear crossover did not seem as refined or slick.



There were some very dramatic gorgeous elements, the chiffon dresses were stunning, and the coats were the perfect balance of quirky and glamorous. The evening gowns really were flawless.
So why was I not totally sold on this collection? To be honest I'm not sure, when you see a show there is a spark of recognition that tells you yes or no. And for this Galliano offering that spark was strangely absent. Yes the hoop skirts were nice, and the injection of colour superb but it didn't flow, I didn't feel that little voice screaming, "everyone will want that. With the other AW09 shows there has been this slick playfulness throughout and whilst this was playful it wasn't entirely slick.



This was a strange show to report on, because the individual elements work, the chiffons, silks, cashmere wools, soft greys and silvers. You see it all works on paper but together it just failed to grab me. I am sure many will disagree, but I hasten to add this was not a No-show and neither was it a Wow, it was perhaps a hmmm.
Yes I feel most perplexed, trust Galliano to baffle.