Last Updated on 19th March 2011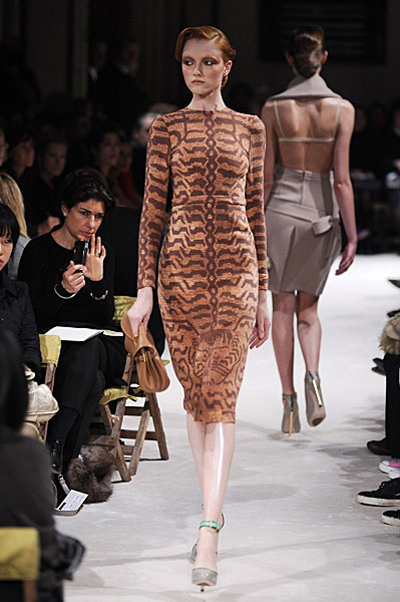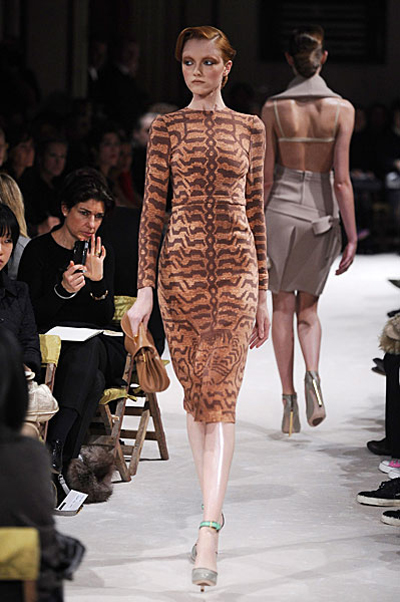 Oh Miuccia Prada, is there nothing you can't do? After sending out a fabulous collection for the Prada mainline, the style genius has worked her magic again on Prada's little sister.
With a Hollywood glamour influence, the lines were clean, sleek and of course very very stylish. Fur stoles were recreated to look thoroughly modern and the 50s esque pencil skirts were given a make over in metallic tiger like prints. This was a sexy collection, Miu Miu is usually the brand to be cute and quirky, but whilst still quirky it felt more seductive and grown up.



The tapestry prints were inspired and will no doubt be incorporated into the accessories line. Delicate embellishment created perfect eveningwear, but it was the body skimming tiger print dress that really stole the show.



Soft dove greys and dusty roses were framed with black and highlighted by brilliant turquoise and burgundy. The hemlines were also something to get excited about, starting above the knee and dropping to mid calf, both looked equally sexy. Cute suits and unusual necklines make wearable items just that bit more exciting.
It's the laidback glamour that was the most interesting thing about this show. It felt like a carefree elegance, throw it on and you'll look fabulous. The look wasn't contrived, or over designed, it was just glamorous.



Miu Miu always has the most incredible shoes, but also note the ladylike handbags and fur stoles. The eyelet tights were not the first to be seen on the catwalks, so make sure you track down some embellished rather than colourful tights for AW09.
This show was subtle, clever, and desirable. There was an almost calming effect, no busyness or over accessorising, straightforward quality fashion.