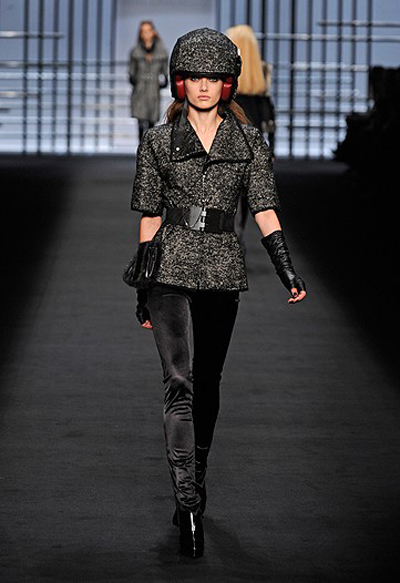 As if Matthew Williamson for H&M and Alexander Wang and Jil Sander for Uniqlo wasn't enough to keep you amused, there is whole host of other collaborations strutting your way.
I don't even know where to begin, so brace yourselves.
1. First up we have Karl Lagerfeld for Ruby helmets. Yes if you have ever fancied a couture motorbike helmet then you can now be finally satisfied. This is perhaps one for chic Italians speeding around Rome, not sure being stuck in Piccadilly Circus at rush hour is quite the look Largerfeld is going for.
2. Next is a new shoe line from Yohji Yamamoto by Salvatore Ferragamo. Now you know that that will be one dramatic shoe collection. Perhaps one of the collaborations that I'm most excited about is one from Hussein Chalayan for J Brand jeans. Team the fashion scientist with the sexiest jeans brand around, now that's a surefire winner, I'll be making sure that I'm on that waiting list.
3. But wait there's more, designer Rick Owens is following in the path of Eley Kishimoto and creating a special line for Eastpak.
4. Whilst Comme des Garcons are teaming up with Tretorn and most excitingly Converse. Comme des Garcons Converses now they are trainers to get involved with. And just another to get you excited is a sunglass line by Bernhard Willhelm for Mykita.
5. Oh did we mention Y's women's are hooking up with Dr Martens and a sexy cosmetic line for Shu Umeura? No? oh sorry we must have missed those two, because we were busy drinking our Jean Paul Gaultier designed Evian bottled water.
But don't worry about your boyfriends because those lucky men can pick up some high street fashion from Zara who have linked up with music channel MTV.
Yikes now that is a lot of collaborations, and don't forget PPQ for Adidas and Kate Moss for Topshop. Which one are you most excited about?
[Source]