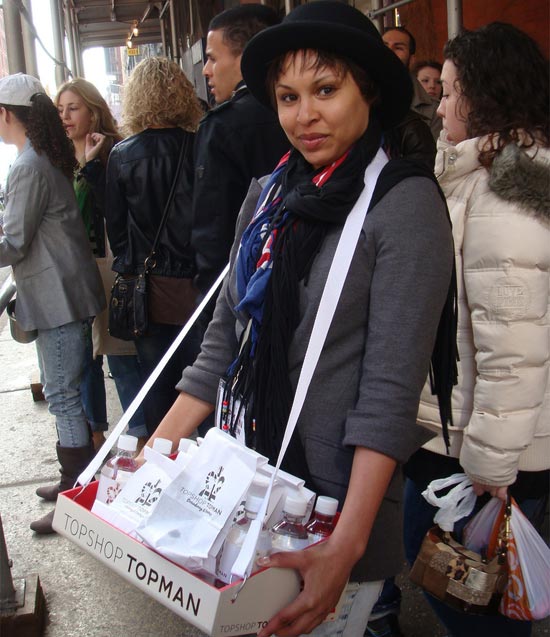 Even amidst the economic downturn the hype around the first New York City Topshop has been enormous , and that's almost an understatement. Blogs have been tracing every step of the highly-anticipated opening and given that the Soho mega-store was slated to open back in Fall 2008, there have been many.
In addition to a number of preview events and parties taking place these last few days, a Topshop Heartschallenger Van has been roaming around the city handing out free goody bags containing Topshop certificates with values reaching as high as $500. It's little surprise that the van has attracted mobs of people, with Topshop fans closely following its every move via a GPS tracker set-up by the retailer. Given all of this hype , and the fact that Kate Moss' 9th Topshop collection was going to be launched in tandem with the opening — I made my way down to the Soho location (478 Broadway near Broome Street), at around 9:30am this morning. With the Kate Moss ribbon cutting ceremony not taking place till 11am, I figured that'd give me plenty of time to get my hands on some covetable goods. Little did I know that people had been lining-up since 6am.
By the time I got to the store the line had already stretched the block and by 10:15am it stretched so far back I couldn't see its end. Luckily the atmosphere was jovial with Pinkberry giving out tons of samples, gratis coffee, and Topshop/Topman employees giving out gift cards, cookies, and goody bags filled with water and a magazine. Camera crews and photographers were everywhere interviewing people on line and I overheard one group of girls say they had flown-in from London specifically for the opening , now that's dedication.
The ribbon cutting took place on time, but the area around Kate Moss was gated-off so only the first 50 people were able to see the Supermodel during her 10 second appearance. I meanwhile made why into the store at around 11:45am and was pleasantly surprised at how calm it was. Turns out to avoid any in-store brawls over Kate Moss sequin dresses and the likes, security was only letting in a few people at a time. The store itself is wonderfully cheery with bright colors, dangling mannequins, and tons of sequin pieces. It has four-levels with 28,000 square feet of selling space and an expansive shoe lounge. The salespeople were super-friendly and constantly replenishing stock , on a side note students get 10% off with a valid id.
Besides shopping and the rush of seeing people flock in excitement at the sight of Kate Moss, there were a number of other attractions including complementary beauty treatments — Woodley & Bunny provided hair styling, MAKE UP FOR EVER sponsored makeovers, and Valley dolled-out manicures. Shoppers were also given the option to book a free Style Advisor appointment allowing them to shop in the private VIP Topshop suites; a trip to London Fashion Week was also up for grabs and a limited edition Cool Britannia t-shirt came free with purchases over $100.
By the time I left the store the lunch crowd had started lining-up and the queue was starting to get colossally long. Topshop clearly has got the cool factor down and as I made my way back uptown all I could think was — Zara and H&M must be shaking in their boots right about now.