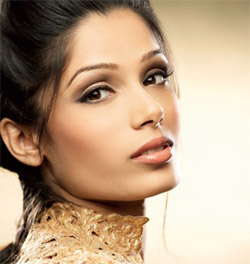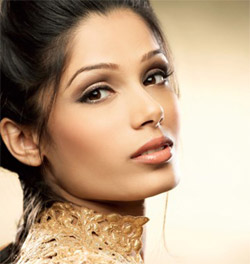 I bet Freida Pinto can't believe her luck, from just one movie she has been propelled into superstardom. Designers are falling over themselves to dress her, she's opened stores, got herself a new co-star boyfriend in Dev Patel and has secured herself as a fashion icon in the making. But where are all the advertising campaigns? Well never fear, because L'Oreal have snapped her up.
L'Oreal Paris have signed up a new gaggle of starlets for their next campaign which includes Freida, Evangeline Lilly and Elizabeth Banks. The international general manager of L'Oreal Paris Vianny Derville commented:
"We have been won over by their rising careers as actresses, together with their attachment to the values of humanity and diversity.
You will know Evangeline from 'Lost' and those Cool Water adverts, and Elizabeth stars as Laura Bush in 'W' and is in 'Forever 21′.
It is an honour to be selected by L'Oreal just think of all those fabulous faces that have "been worth it. We do adore Freida, there is such an understated elegance to her that is truly brilliant. I'm sure it's only a matter of time before top designer brands snap her up too.
[Source]