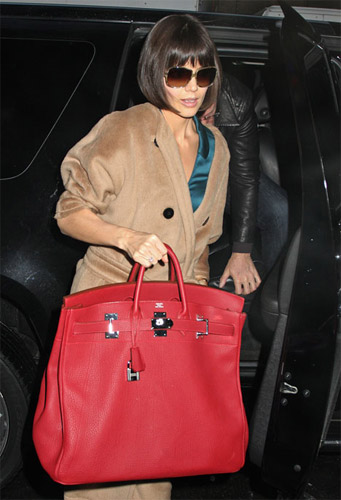 Hermes are breeding their own crocodiles to meet demand for their leather bags.
There is a waiting list of several years for some of the French luxury group's exotic-skin bags – which cost around $50, 000 – and so executives have decided to establish their own farms to create a bigger supply.
Chief executive Patrick Thomas told Reuters: 'We are now breeding our own crocodiles on our own farms, mainly in Australia. The world is not full of crocodiles, except the stock exchange.
'We cannot face demand. We have massive over-demand. We are limited by our ability to train new craftsmen.'
It can take three or four crocodiles to provide enough skin for one bag and breeding can often be expensive as the animals need to be kept apart in separate rooms to minimise skin damage from bites.
Fans of Hermes' crocodile-skin bags include former Spice Girls singer Victoria Beckham, who is regularly seen with different versions of the Kelly style, Eva Longoria and Katie Holmes.