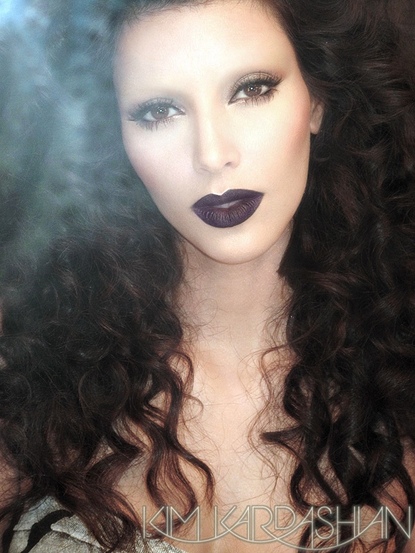 Kim Kardashian has shown off her new "creepy" vampire make-up.
The brunette reality TV star bizarrely decided to swap her usual bronzing products for a ghoulish pale look – even hiding her dark eyebrows for the 'Twilight' inspired makeover.
Below a picture of her face, Kim wrote on her official blog yesterday: "Since vampires are all the rage right now, Troy Jensen and I thought it would be cool to try out a more gothic, almost sinister look!
"This look was inspired by Prada's fall 2009 runway show and it is so unlike anything I've ever done! And no, I didn't actually get rid of my eyebrows, haha. Troy used an eyebrow concealing wax to hide them!

"Pretty creepy, right? I call this my 'Twilight' look! What do you think? (sic)"
Kim is not afraid to experiment with new looks.
In April, the 28 year old beauty, renowned for having a shapely butt, ditched her trademark long, dark locks and went blonde.
However, Kim quickly reassured worried fans she hadn't dyed her hair and was just wearing a wig.
She said: "I love experimenting with hair looks! It keeps things interesting and new, and thanks to the amazing and talented hair stylists who create my looks, I know I'm always in good hands and my hair will always look red-carpet ready!"
[Image]