Last Updated on 19th October 2013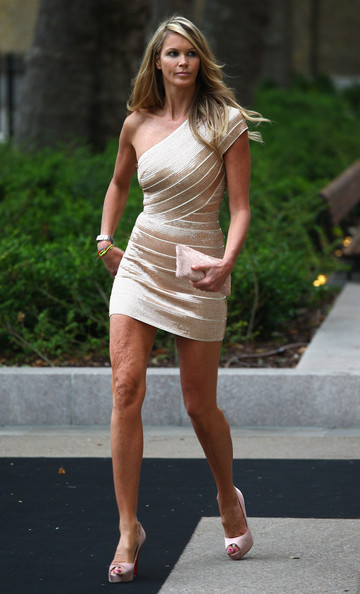 It's not very often that you feel sorry for a woman like Elle MacPherson.
After all The Body is capable of making even super-woman feel a bit of a frump. Plus she has her own business empire, churning out gorgeous underwear and body care products. She has a gorgeous family, and an enviable list of exes including first husband uber-photographer Giles Bensimon and the handsome self made multi-millionaire and philanthropist Arpad Busson. Plus she apparantly speaks four languages. Yup, Elle is pretty much the perfect woman; so perfect you hate her.
And her interview with the UK's Guardian newspaper this week didn't help either. Launching her new D-G range of bras, Elle delivered a series of statements that made many female readers squirm with embarrassment.
But despite all this, this week I feel sorry for Elle MacPherson. It can't be easy to have close-up pictures of your knees splashed all over the tabloid press under the headline "No longer the bees knees: should any woman show her legs after 40?. -legs-40.html
Well why on earth shouldn't she? Elle, as is her wont, looked stunning in her Herve Leger mini-dress. If someone works out for two hours a day every day to retain their perfect figure, then why shouldn't they be able to celebrate it? Desperate Housewife Nicolette Sheridan was also held up for similar riridcule. What exactly is the big crime in having less-than-perfect knees at the age of 46? Elle certainly looked far better in her mini than many of the 20-somethings that stumble around London's Leicester Square in polyester micro-minis from Primark and Topshop on a Saturday night.
I must confess that it is true that there comes a time in every woman's life when wearing a mini skirt begins to make you look a little unusual. But if Elle feels good and looks good, which she certainly does, why use her as an example to reinforce the ideals of the body fascists and make women even more painfully conscious of growing older.