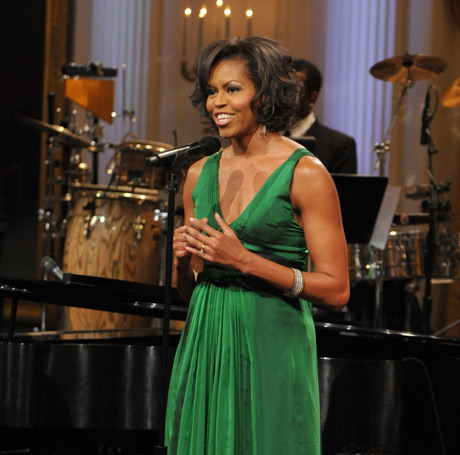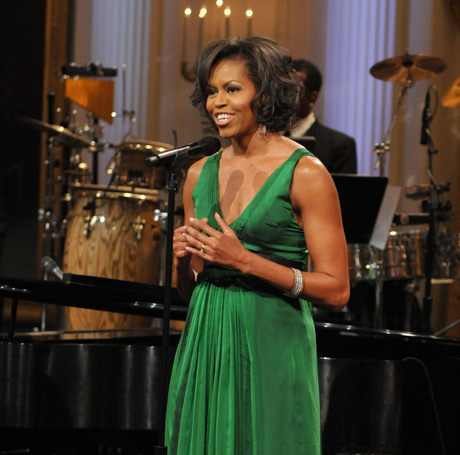 Brad Pitt has made Vanity Fair's Best Dressed List due to his fondness for accessories.
The 45-year-old actor , who raises six children with partner Angelina Jolie was praised for his devotion to sunglasses.
Vanity Fair's Amy Fine Collins told US TV show 'Today': "He has found a lot of accessories men are imitating; the hats, the aviators, the scarves. He looks good and does good.
"Angelina does make a good accessory for him.
While Brad received praise, there was no place on the prestigious list for Angelina. However, actresses Penelope Cruz and Anne Hathaway both made it onto the women's list for the first time. Discussing Anne, Amy said: "She is the embodiment of the glamorous nice girl. She is beautiful and fresh, clean and young, and a little bit fragile in the tradition of Audrey Hepburn.
Penelope was praised for her ability to show off her "beautiful body without any "vulgarity. US President Barack Obama's wife Michelle , who received the most votes the list, which has run since 1939, has ever had – and French President Nicolas Sarkozy's wife Carla Bruni-Sarkozy were named the best dressed First Ladies.
Amy explained: "They are both young, in their 40s – tall, good-looking, and the world is watching.
"Michelle has brought back the dress, she has turned the planet into her runway without even meaning to. She loves showing her arms and her legs, which is a bit refreshing. She goes high, she goes low. She's very interested in American designers, but she's not provincial. She has a good sense of colour and pattern. It's a strong, consistent and distinctive look.
Barack also won a spot on the list, despite recently admitting his style is "frumpy. Amy explained: "He's completely comfortable in his own skin. He is very much in the tradition of American classic dressers, but relaxed.
The Best Dressed Lists are voted for by over 2,000 fashion industry professionals.
Vanity Fair's 70th annual International Best-Dressed List is below in full:
International Best-Dressed List: Women
Chiara Clemente, filmmaker
Penelope Cruz, actress
Kathy Freston, writer
Agnes Gund, president emerita of MoMA
Anne Hathaway, actress
Alicia Keys, singer, songwriter, actress Princess Letizia of Asturias Kelly Ripa, co-host of Live! with Regis and Kelly Sheikha Mozah of Qatar, wife of H.H. the Emir of Qatar Sheikh Hamad bin Khalifa Al Thani, UNESCO special envoy for basic and higher education Lizzie Tisch, private banker
International Best-Dressed List: Men
Tiki Barber, NBC correspondent, founder of Tiki Ventures Arpad Busson, financier Daniel Craig, actor Matteo Marzotto, entrepreneur, chairman to ENIT (the Italian state tourist
board)
Barack Obama, president of the United States Ogden Phipps Ii, private-equity investor Brad Pitt, actor Roo Rogers, environmental entrepreneur, co-founder of OZOlab Alejandro Santo Domingo, investor Cy Twombly, artist
Hall Of Fame
Liliane Bettencourt, principal shareholder of L'Oreal Count Manfredi Della Gherardesca, art adviser, curator Catherine Deneuve, actress and model Lapo Elkann, creative entrepreneur; founder and president, Italia Independent and Independent Ideas; founding partner and owner, LA Holding Renee Zellweger, actress
First Ladies
Carla Bruni-Sarkozy, singer and First Lady of France Michelle Obama, First Lady of the United States
Fashion Professionals
Georgina Chapman, co-founder and designer, Marchesa Tory Burch, designer Mathilde Meyer-Agostinelli, director of communications, Prada France David Lauren, senior vice president, advertising, marketing, and communications, Polo Ralph Lauren Candy Pratts Price, executive fashion director, Style.com Rachel Roy, designer Stacey Bendet, designer and founder, Alice & Olivia Franca Sozzani, editor in chief, Italian Vogue and L'Uomo Vogue Ali Hewson, co-founder, Edun fashion label and Nude skin care
Siblings
Jane Lauder, general manager, Origins, and Aerin Lauder, senior vice president and creative director, Estee Lauder Stavros Niarchos and Eugenie Niarchos, jewellery designer for Gaia Repossi
Couples
Paloma Cuevas, jewellery designer for Yanes, and Enrique Ponce, professional bullfighter Diana Taylor, managing director, Wolfensohn & Co., and Michael Bloomberg, mayor of New York City; founder, Bloomberg L.P.
Natalia Vodianova, fashion model, and Justin Portman, artist Shelley Wanger, editor, Knopf and Pantheon, and David Mortimer, president, the American Assembly
Fashion Originals
Peter Beard, "escapist
Duchess Of Alba
Nicky Haslam, interior designer
Ike Ude, artist, founder of Arude magazine Bruce Weber, photographer, artist, filmmaker