Last Updated on 9th August 2009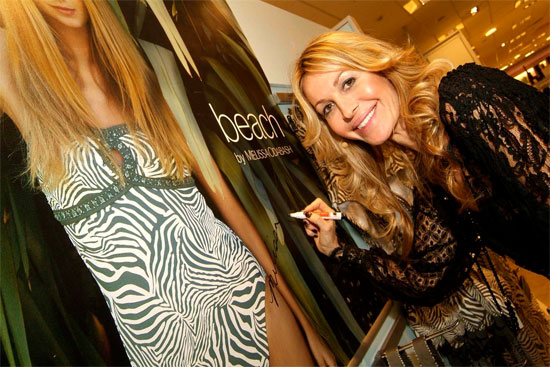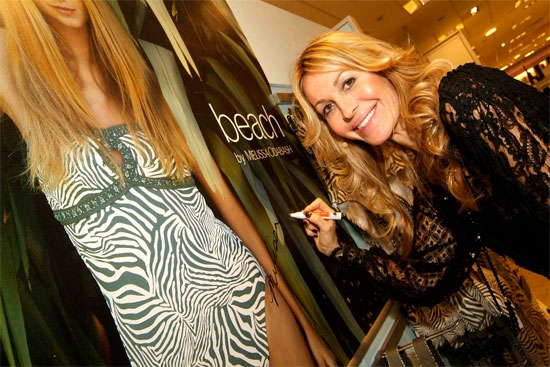 Looking for swimwear? Look no further than Melissa Odabash. A former model, Melissa launched her eponymous label in 1995 and has since become synonymous for designing "must have bikinis.
Most famous for her Zebra print swimwear Melissa's creations have been worn by top celebs such as Rihanna, Chloë Sevigny, Kate Moss and more. We caught up with Melissa for a little insight into her life and loves..
If you could drop everything and jump on a plane today, where would you travel to?
Probably Capri. I love Italy, the food, the men and the culture. I speak fluent Italian so its great to mingle with the people and I love that there are no cars there.

Do you play favourites with your designs? If, so what's your favourite piece from the current collection?
I am really picky about which styles suit me so I always go for super skimpy ones as I am tall and thin and too much fabric on me just does not suit my body type. I also love bandeaus in plain colours and my cowboy hats and white kaftans.

If you could pass on one bit of vital knowledge to a budding designer, what would it be?
Concentrate on one thing and get good at it. So if you are good at making jeans stick to only doing that until you feel you are an accomplished brand, then branch out into designs that will sit beside it. So many designers do too many things and are not known for what they are really good at.

How would you define your style?
Very simple. I love jeans for day with cotton or jersey tops. I hate anything itchy and tend to wear flats as I am 5'10. At night I love beaded dresses with Jimmy Choo shoes and vintage bags.
Designer you couldn't live without?
Julien Macdonald – a fellow Debenhams designer with an amazing eye for design and a good friend. He makes all my evening dresses for black tie events , it's a good thing that I am sample size so I know no one at the party will have my dress on!
What do you do to relax?
I leave and go to my house in Florida , it's right off the beach and I don't turn on my blackberry. I jog along the beach in the mornings, cycle to all the shops with no make- up and live in a bikini. I totally recharge after 2 days.
Best piece of advice you've been given?
Don't take yourself too seriously, enjoy life and live everyday as if its your last.
Visit Melissa Odabash at Odabash.com