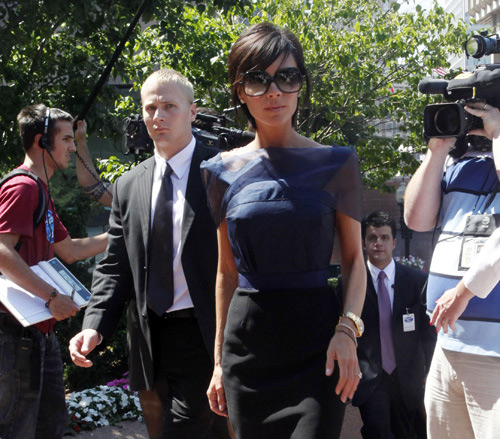 Victoria Beckham consults stylist Katie Grand on all her fashion decisions.
The former Spice Girl , who has a fashion label dvb Style, a perfume range and has appeared in campaigns for Marc Jacobs and Emporio Armani , has the utmost respect for British stylist-turned-journalist and will always seek her approval before embarking on a new fashion business venture.
She explained: "Katie has been so supportive of me since I've been working in the fashion industry. If I have any questions, she's the first person I'll get on the phone and say, 'I'm doing this, what do you think?'
"She has so many influential people listening to her, and she's really earned that respect.
The 35-year-old fashion icon has worked with 38-year-old Katie – who recently launched the bi-annual fashion magazine LOVE – since she styled the feisty girl band during their prime in the 90s.
However, Victoria admits she was initially terrified of meeting the coveted fashionista.
She added to Britain's Sunday Times magazine: "I was a bit nervous of her at first, she has such a reputation for being great. I thought she'd be older – she's so young to have achieved what she has.
Now, the two women have formed such a strong friendship they even socialise together.
Victoria explained: "We go out every now and then. I wouldn't like to say she's a trouble maker, but it's always guaranteed to be a bit of fun!