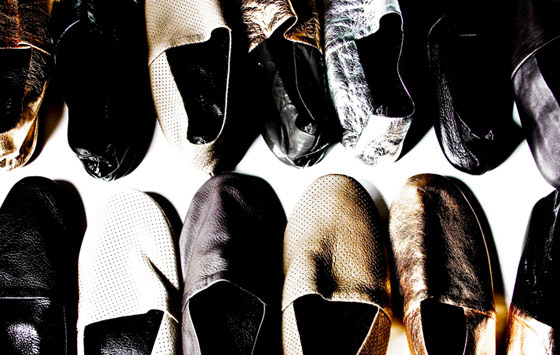 NewbarK, a new brand of chic comfortable flats, have hit the virtual shelves of Net-A-Porter.com.
Designed by sisters Maryam and Marjan Malakpour, who have styled Hollywood stars from Heidi Klum to Courtney Cox-Arquette, as well as bands including Yeah Yeah Yeah's and the White Stripes, the shoes have become synonymous with the celebrity set.
Speaking of the NewbarK flats, Roland Mouret said:
"It's like falling in love! You never know how amazing they are until you live with them.
Well, approval from a legendary fashion designer, that can't be bad, hey?
These super stylish flats easily fold up to be carried around , perfect for slipping on if those killer heels become all too much , and they come with a darling leather pouch that fits right into your bag. What a fantastic idea.
The NewbarK flats come in a range of colours and styles, from taupe to gold, slate grey to gun metal metallics, lame to patent and two-tone perforated leather.
I absolutely love these shoes , perfect worn day or night, zipping around town, or thrown in your bag as a handy spare, NewbarK flats are the ultimate in understated chic.
NewbarK flats retail at £295, and are available now from Net-a-Porter