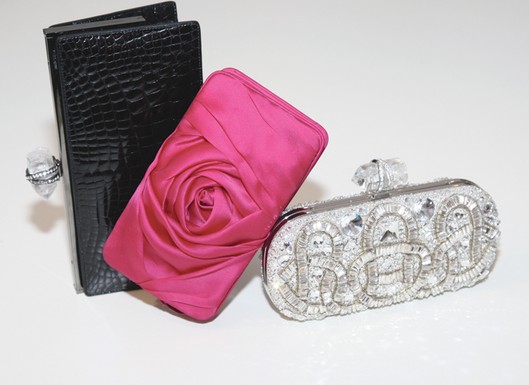 Marchesa is set to launch its first accessories collection.
The handbags, set to launch in spring, are a collection of 28 clutches and evening cases, and you can bet your bottom dollar they are every bit as elaborate as their stunning gowns and dresses.
Featuring beading, pleating and corsetry, key styles include an oval silver clutch with complicated beading and embroidery detail and clutches with tassels and rock jewels. Exotic alligator, crocodile and lizard skins have also been used.
Speaking to WWD, Georgina Chapman, co-founder and designer, said:
"We had never done accessories, so we thought, 'let's approach it the way we approach a dress'.
As you'd expect, the collection of clutches coordinate with the mainline dresses, but Chapman insists you could wear them more often than you'd first imagine.
"Some people don't always have an occasion for a gown, she says. "You could wear these with jeans and a T-shirt.
The only requirement for the bags was that they fit a night's essential kit: a BlackBerry, cosmetics and keys.
Keren Craig, other half of the Marchesa duo, said:
"We were frustrated because we couldn't find [an evening] bag to fit it all.
"These are timeless styles, and it was important that they be unique.
The designs will debut at Marchesa's spring presentation, on September 16th at the Chelsea Art Museum, New York, and will arrive in eveningwear and accessory departments in key stores next year.
Separately from Marchesa, Chapman is also working with British jeweller Stephen Webster to create a capsule jewellery collection, which will be unveiled this autumn.
[Images]