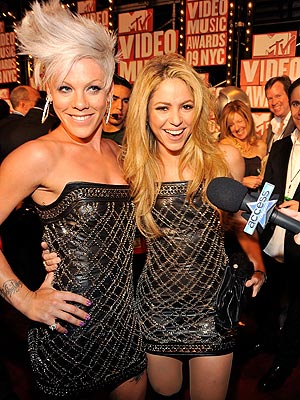 Well, it was certainly an eventful night at MTV's annual Video Music Awards. We witnessed Janet Jackson's storming tribute to brother Michael when she performed Scream at the end of a fantastic dance medley; saw a certain blonde's most 'Gaga' performance to date, and shouted at the TV for Kanye to get off the stage when he interrupted Taylor Swift's acceptance speech.
To top it all off, every woman's nightmare occurred right before the lenses of the papparazzi:  Pink and Shakira turned up wearing the same studded leather Balmain dress! The songstresses however, didn't seem to care one bit and even posed for a photo together.
We're just curious as to how this happened. Surely fashion houses know who they are lending their dresses out to?!
Shakira in her thigh-highs, or Pink in her classic pumps – who wore it best?