Last Updated on 19th September 2009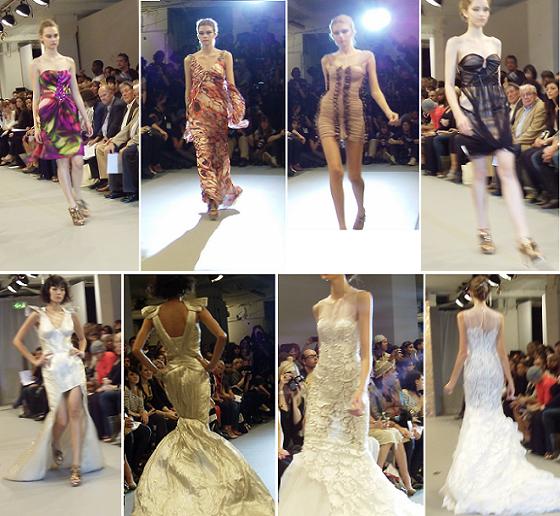 So lucky me managed to grab a front row seat at the Ashley Isham show today.
The dress designer, who has showed at London Fashion Week nine times, put on a lively show with music from Kasabian and Florence and the Machine. It was clearly a show of two halves , for me, at least; the first was rather vivid, full of bold exotic prints, bright colours and jewels galore, whilst the second half took a gentle turn, and embraced a palette of soft nudes, creams and pale golds , toughened up with hints of black.
The dresses may have varied, but the accessories remained the same throughout. Gold sky scraper platforms accompanied each piece, jewellery adorned the hair of almost every model, and gems were a statement fixture on many of his pieces.
If I'm honest, I feel a bit mixed about his collection. His bold exotic print midi and maxi dresses were rather special, but some of the plainer brights didn't do much for me; they just seemed a little ordinary.
The nude pieces excited me a little more, though , especially the short nude/black body con dress adorned with exposed zips and chains. But I have a feeling there will be two dresses everyone will remember from this show: a floor-length pale gold dress, snipped short at the front to expose bare legs, and with a nod to the century of the moment, boasted exaggerated eighties shoulders to boot; and another floor-skimming off-white pattern-embroidered chiffon dress with sheer neck detail and ruffled train – it's a little wedding-esque, perhaps, but boy did it get tongues wagging where I was sitting.
The collection seemed to have something to please everyone, which is probably why I'm left somewhere just past middle with this one. But one thing is for sure: Isham certainly knows a thing or two about dresses. The lines of each piece are beautiful , cut to sculpt and skim with perfection , and it's that attention to detail that gives the collection its sensuality.