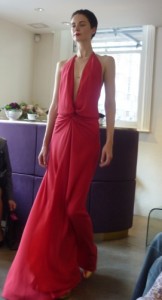 Think elegance, think sophistication, think class. They were the overruling themes at Maria Grachvogel's Spring/Summer presentation. Held on Sloane Street yesterday, the collection was a far cry from the hot pants and corset dresses seen at her 2000 show, which featured guest model, Victoria Beckham.
Grachvogel took us back to uptown 1964 with this wonderfully demure collection inspired by Hitchcock's beautiful women who were seen as powerful and racy yet glamourous and serene.
Executed in silk and satin, floor-length gowns floated across the catwalk in block shades of dune, red and black. The designs came across as simple creations in a range of largely muted colours but this worked in Grachvogel's favour, allowing attention to be drawn to the drapery of the fabric which was so important in this presentation.
Slash neck dresses featured alongside loose, high-waisted trousers and tie-neck blouses, while much of the drama was characterised by the low-slung backs. Not only did Grachvogel highlight the spine with her classic gowns, but also with her Graphic Plume Print Satin Portofino Blouse; an unusual backless piece which tied around the neck and slashed at the sleeves.
Prints did not feature heavily in the collection, with these being limited to a black and white graphic print as well as the image of the Lotus and Tiger Lily. These offerings broke up the presentation nicely, balancing out the dominating tones of typical evening glamour: the bold flower prints in particular – striking in their complementary colours – gave the audience a real taste of spring.
Failing to avoid the cliche, the photos of this presentation have not done the collection justice. I think that the chosen fabric means that these pieces really rely upon movement in order to give off that desired effect, which stills just cannot fully emulate. Nonetheless, Grachvogel put on a beautiful presentation which showed off her signature cutting techniques, enabling her to create elegant and entirely wearable pieces for the glamourous woman. While Grachvogel might not have taken any risks, the collection was consistent and certainly pleasing on the eye.