Last Updated on 3rd October 2009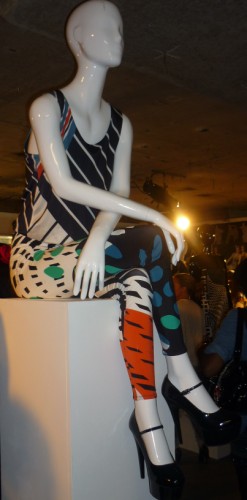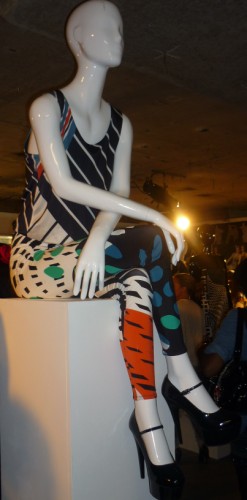 Avsh Alom Gur's Spring 2010 static installation was a busy affair and the fashion pack were eager to view Gur's first solo collection since leaving the now defunct Ossie Clark earlier this year.
After a short drinks reception, the curtain was drawn back to reveal a model wearing one of Gur's latest creations. The black and white two-piece consisted of a sleeveless, loose fitting top and high waisted, wide leg trousers. Sat on a platform like the mannequins behind her, she handed out the 2010 lookbook before wandering the crowds and posing for photographs. Gur's decision to use a model alongside his static collection was a smart move, as it breathed life into the outfit and allowed onlookers to imagine the fluidity of the fabric used in the designer's other pieces.
Not for the shy, the large collection was built on geometric shapes with bold prints in monochrome, orange, green and blue. Silk flowing jumpsuits and long, kaftan style one pieces made parts of this collection fit for the beach, while slash neck A line dresses took the look to elegant daywear.
The effortlessly wearable cut of Gur's collection gave the clothes a minimalist feel, with attention being focussed on the print and embellishment. A combination of spots and stripes and distorted pattern sometimes made it feel as if you were looking at a Magic Eye (remember them?) but when seen against sheer fabric, the print was more successful, creating interesting shapes under the light.
Full of one-piece looks, the modern installment was limited in the accessories department however hats and bangles made an appearance in some cases, tying in the use of vivid print.
Most impressive was the intricate beaded embroidery featuring in some of Gur's dresses, adding texture to simple shapes and injecting a touch of glamour to an otherwise laid-back and at times, 'in-you-face' collection.