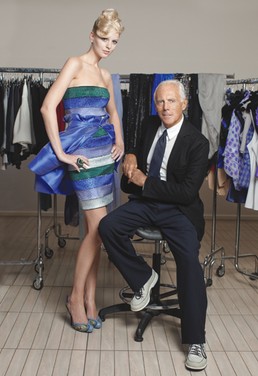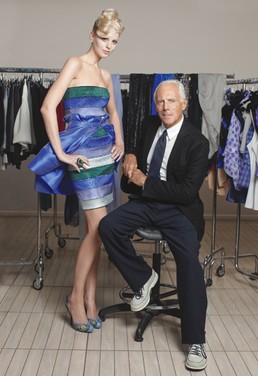 Giorgio Armani opens up about his health, his business, his upcoming collection and the future of fashion.
After being diagnosed with hepatitis in June, the 75-year-old designer, we are pleased to report, is now visibly healthier, and has revealed how his illness has made him appreciate all that he has.
The Italian fashion maestro told WWD: "During my illness, I spent more time in my homes, in Broni, and discovered the pleasure of being with my cats, dogs and staff. Before, I always felt like a guest in my homes, even if it's tragic to enjoy the things you built thanks to an illness.
Armani is one of the few fashion houses who has successfully weathered the tough economy where so many other labels have struggled, and it's all down to his classic designs.
"I think we've handled it well, better than others, predominantly because my aesthetic is aimed at a timeless elegance and sophistication and not influenced by ephemeral trends. For this reason, my clothing has always been considered something that does not go out of fashion quickly. In other words, [it's] a good investment, he said, in his first interview since spring.
Speaking of spring, Armani's S/S10 collection , which is inspired by Body Art as body language and an eccentric Bauhaus purity , is sumptuous and exuberant, featuring bold cuts and chiffon-covered ribs.
Despite slowing his schedule and taking shorter hours, Armani certainly seems to be back in control of his luxury label, and has no plans of easing up. So rumours go, his nephew, Andrea Camerana, is being touted as a possible future leader of the company, but the designer rubbishes this idea, for the time being, at least, insisting he is staying in drivers seat.
"He is not as involved as I am, up to my neck from morning until night, he said.
"I keep Andrea by my side because he is my nephew and I love him, and who knows, one day he could have a big opportunity in the company. However, for the moment, I prefer to keep him where he is, without giving him responsibilities that are too official. His official role is as my nephew.
Well, Mr. Armani, we're certainly pleased you're back , both in good health, and to your designs, which, by the way, are as beautiful as ever.
[Images]