Last Updated on 25th September 2009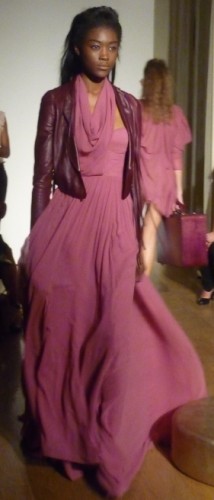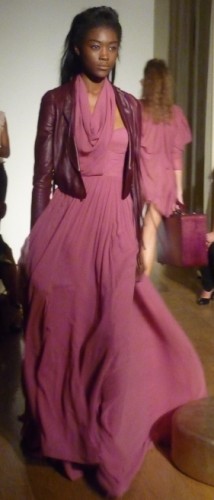 When Mohamed Al Fayed walked swiftly passed me to go and see his daughter's presentation in the Portico Rooms of Somerset house, I desperately wanted to join him. Not because I didn't have a ticket, but because I had already waited over 45 minutes in a tiny, overheated corridor to get there and the queue was not moving anywhere in a hurry.
By the time I got into the presentation room I was hot, bothered and a little annoyed by the rude man who insisted on trampling on me to steal my semi-decent spot. I was determined however, to not allow minor grumblings to distract from Jasmine Al Fayed's move to London Fashion Week.
The presentation featured a Terence Gross film playing alongside the collection behind sheer drapes. This unfortunately made it extremely difficult to follow, especially since the screening time occurred simultaneously with the arrival of the models onto the circular catwalk.
An intimate affair, the crammed presentation showcased a sexy and sumptuous collection from Al Fayed. Stand out pieces included the burgundy leather bandeau dress and tiny glittering two piece teamed with a soft, grey bolero – simple and effective items, which helped to portray the image of a true vamp.
Floor length gowns in glowing white, delectable pink and neon orange screamed glamour while discreet prints of the female silhouette at the hem of one dress and outlined across the front of another, made these parts of the collection more playful. The combination of the dusky pink, cowl neck maxi dress and the rich Burgundy biker jacket was a great stylistic choice, toughening up the feminine glamour while the stone coloured, wedged ankle boots worn with all of the design's, assisted in creating Al Fayed's strong female.
The varied collection featured laid-back luxe with the silk, straight-legged trousers, embellished comedy T-shirt (can you spot it?!) and black leggings with eyelet and lace detail; grecian-style drapery and shape defining, asymmetric pieces that added depth and individuality to otherwise standard bodycon pieces.
So, after the not-so-smooth start, Al Fayed redeemed herself with a gorgeous, focussed collection. I loved the retro suitcases too.