Last Updated on 20th October 2013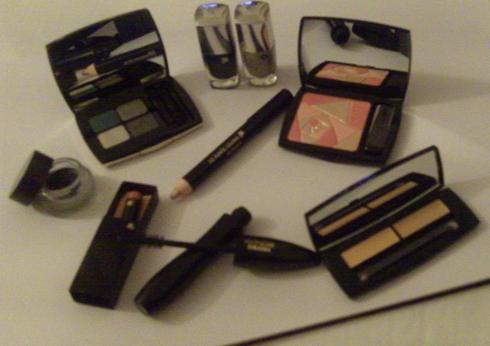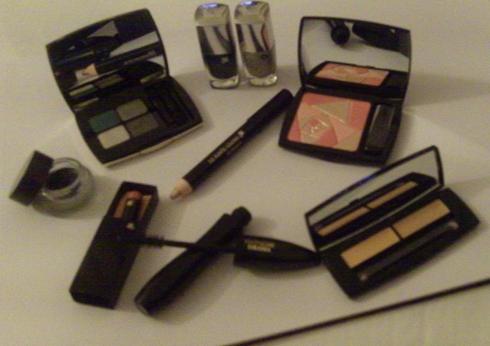 Oh Lancôme, how we love thee , not only for your pretty pampering products, but for inviting us back to Paris for your very first makeup party.
That's right, beauty's best luxury label, Lancôme, invited us to Paris last week for its first ever makeup party and to catch an exclusive sneak peek at its S/S10 offerings, Ô My Rose!.
This is Aaron De Mey's second season with Lancôme, and we'd like to say here and now that his arrival at the French beauty brand has shot the label right back into fashion's forefront.
It's not that there was ever any doubt over what an incredible institution Lancôme is, but De Mey's move as new creative director has brought a youthful, cool edge to the ever-classic tradition that grounds the brand.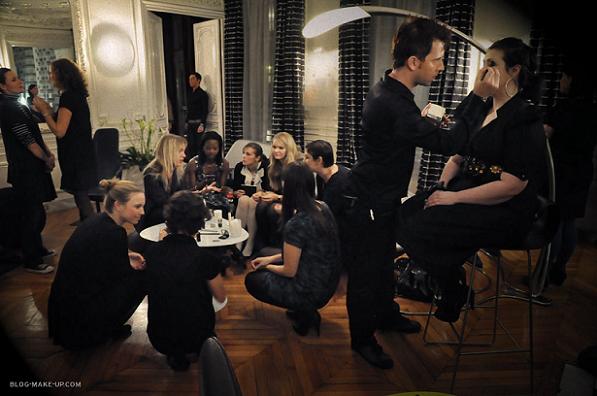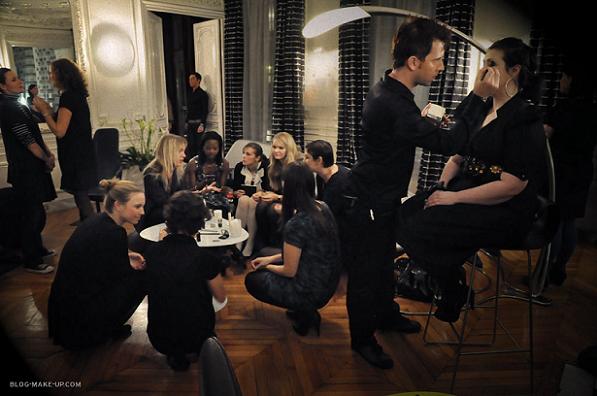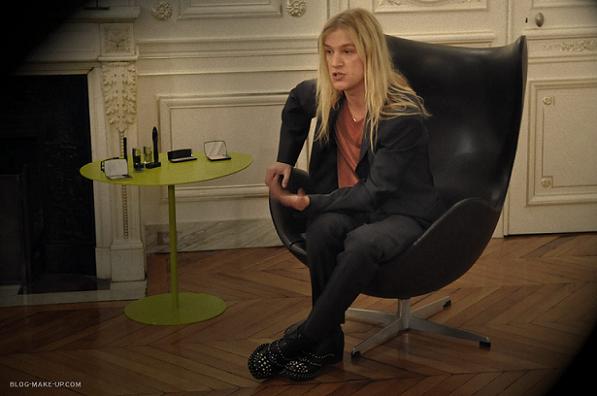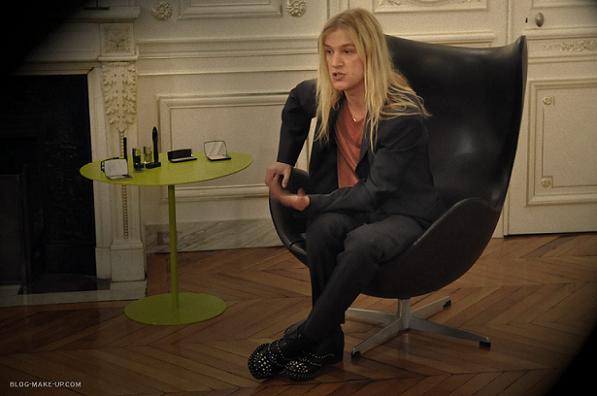 Aaron's understanding and approach to makeup is simple, but the results are anything but , which leads us on to chat about the new collection (oh, the new collection!). Ô My Rose! is Lancôme's spring offering for 2010, which takes inspiration from the free-spirited sixties' attitude and icons, mixing child-like innocence with a deep rebellion.
Based on what De Mey describes as a 'French Kate Moss' , someone with an imperfect beauty , Ô My Rose! delivers a surprising colour palette for S/S10, skipping sickly-sweet candy colours and predictable pinks and opting for old-world corals, pop petrols and earthy camouflage greens.
Whether you're after a soft, summer glow, classic sophistication, or an all-out rebellious edge, this collection holds the power to enhance your every desire. We realise that's a strong statement, but this is an even stronger collection.
Aaron's vision extends itself past the products to the packaging, too, from Lichtenstein inspired perforated compacts to geometric pop art-esque lines across the blusher, proving his attention to detail and passion for Lancôme is paramount.
So let's talk favourite pieces. Featuring pretty high up on our list is the coral blusher, which looks as gorgeous on the skin as it does in its casing; then there's the coral B.B Kiss which can be used for a soft iridescent glow across eyes, cheeks and lips, or dipped in water for a stronger colour; and we love the pop petrol liquid liner, the large eye pencils in both the green and gold colourways (the gold is great as a highlighter, too) and the pearlescent pop petrol nail varnish.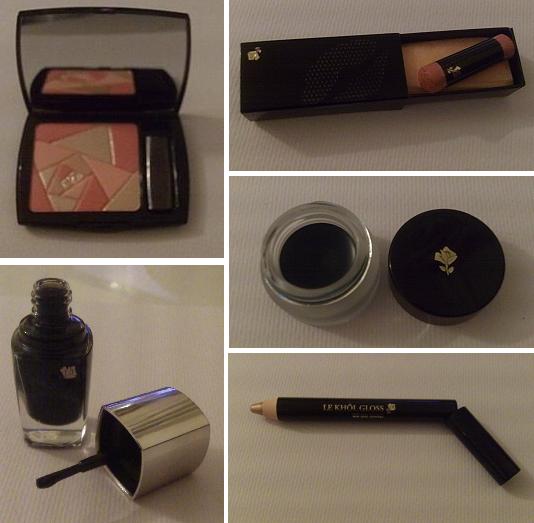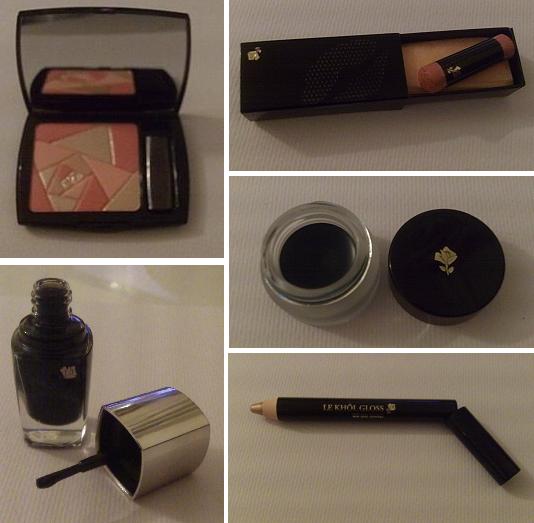 After listening intently to Aaron as he eagerly introduced and talked us through his S/S10 collection in the gorgeous surrounds of a private Parisian apartment, we indulged in a little luxury ourselves, naturally. Sitting in 'the makeup' chair, we received a professional makeover from one of Lancôme's top makeup artists (ours came from the delightful Petr Blecha, Lancôme's makeup artist for Europe, Africa and Middle East) and tried our hand at modelling in a photoshoot by Kostia Petit who, after telling us to 'smile with our eyes' (translated as 'squint') and do a 'blank face' ('completely vacant'), shared our realisation that we should stick to writing.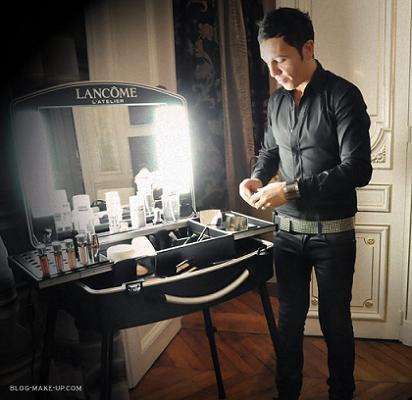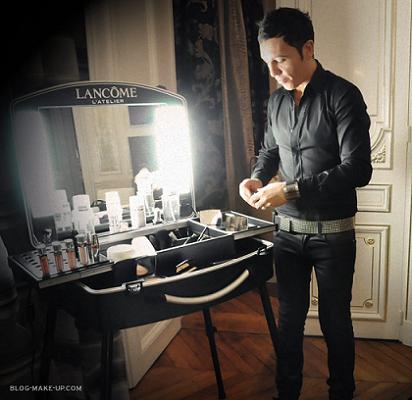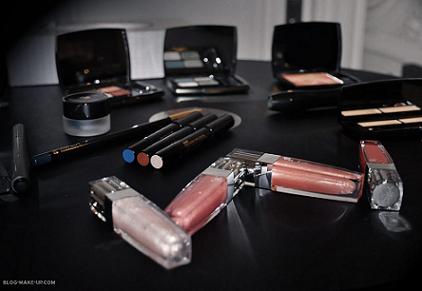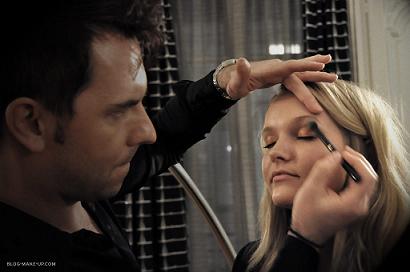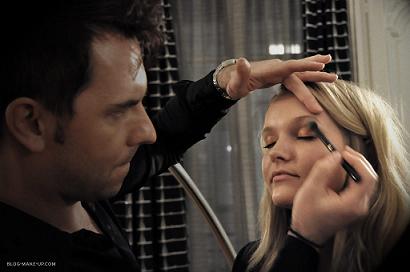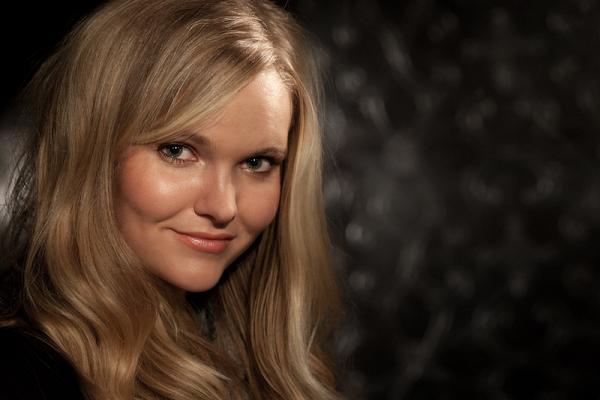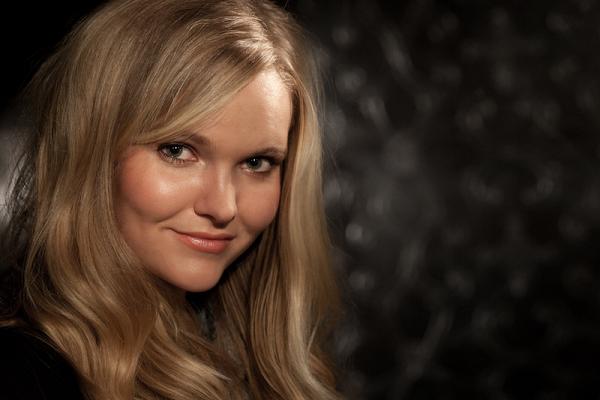 Of course, we may have indulged in a glass or two of champagne and more than a handful of delicious canapes and dreamy desserts, too, as we chattered away to the other European bloggers.
Our thanks to the incredibly generous Lancôme for a fantastic makeup party in Paris and our bag of yummy Lancôme treats, which we proudly paraded on our trip home, much to the annoyance of our fellow train travellers: cue "Oh, sorry, did we just knock you with our huge Lancôme bag? and "Excuse us while we just explore our goodies in front of your envious eyes and such. We apologise.