Last Updated on 4th December 2009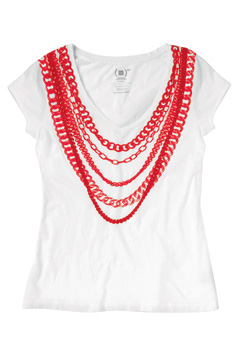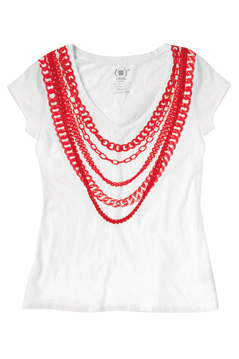 Cor, she's a busy bee at the moment isn't she? When she's not switching on her store Christmas lights or planning collaborations with Morrissey, Stella McCartney has been designing a (RED) T-shirt for Gap to mark this year's World Aids Day.
Taking a classic white Gap T-shirt, the British designer has embellished it with a red bead and chain necklace print, transforming into something suitable stylish.
The T-shirt, which follows Stella's sell-out collection for GapKids, will, according to Elle UK, hit Gap stores worldwide tomorrow, with 50 per cent of the profits going to RED , a charity fronted by U2's Bono to help eliminate Aids in Africa.
And Ms McCartney's not the only one who's gone rather RED. The London Eye, Trafalgar Square Fountains and the BT Tower were among many of London's landmarks that lit up RED on Tuesday in aid of the charity.
Ooh, another item for our Christmas wishlist , we'll be hitting stores early tomorrow to get our hands on the trendy tee.