Last Updated on 19th October 2013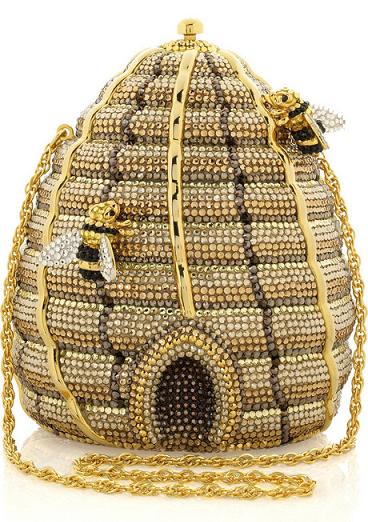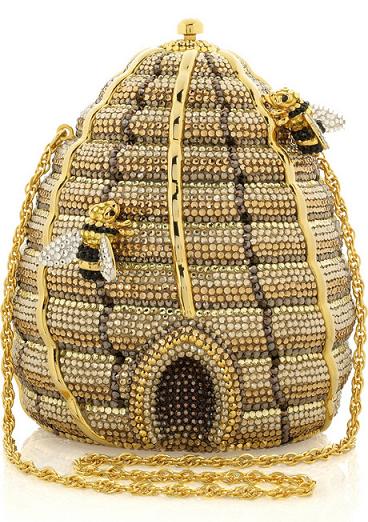 Something's got us buzzing this morning, and it's not an excess of coffee; we've just caught sight of the Judith Leiber Beehive clutch.
If you're familiar with the luxury American accessories designer, who's crystal-clad clutches have caught our eye many a time before (remember the elephant and camel or that disco ball?), you'll know her designs have no limits.
Enter the Beehive clutch. There aren't many designer's who can put forth a bag in the shape of an irritating insect's nest and it be considered high fashion, but Leiber, of course, somehow pulls it off.
Perhaps it's the painstaking process of hand-painting and hand-embellishing the clutch , we're talking crystal by crystal, here , that makes us 'ooh' and 'ahh' in awe. Or perhaps it's the simple fact that a gold and black crystal-covered beehive makes us feel as though we've entered the grown-up world of Winnie the Pooh, where bees can be beautiful, and whimsical, wonderful accessories can be classic all the same.
Stunning though it may be, however, it's hardly a practical purchase. Though we seriously doubt anyone willing to pay the £4,320 price tag that comes with this sweet little statement clutch has practical on the mind.
Still, can't say we'd mind clutching onto this leather-lined Leiber case.
Judith Leiber Beehive clutch, £4,320, available at Net-A-Porter.com