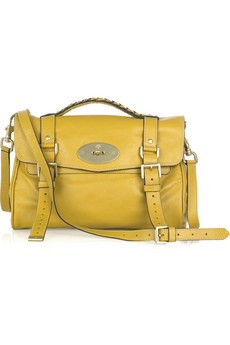 A few days ago, the much anticipated Mulberry Alexa arrived… and then sold out just when we thought we had our chance of nabbing the arm candy for 2010. Typical.
The coveted bag is named after UK presenter-turned-style-icon Alexa Chung, as she follows the likes of Jane Birkin and Grace Kelly who each had bags named after them by French label Hermes.
While the oversized Alexa in oak (the bag's most popular colour) and the Alexa clutch has sold out, we've spotted this smaller version, which is still available on Net a Porter. The statement satchel is made from buffalo-leather and comes in a butter-yellow colour, featuring a long, detachable strap for across-the-body use.
Not to your taste? Keep an eye out on Net a Porter for more stock of the oversized and clutch versions in oak and leopard-print, coming soon…
Get your Mulberry Alexa in yellow buffalo leather, while you still can. £695 from Net a Porter.