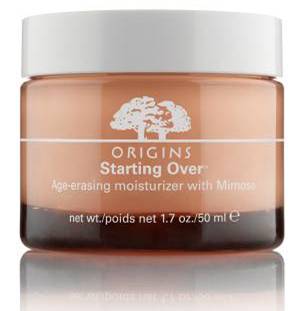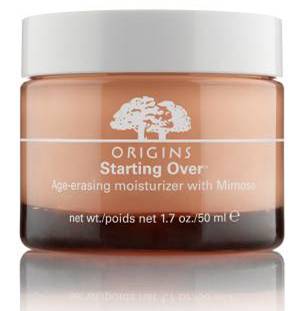 Hands by your purses Origins lovers. The cult skincare brand has launched another new product to tempt the pounds away from your dwindling post-Christmas bank balance.
Origins Starting Over is a wrinkle and fine-line reducing cream that boasts it gives results from the initial use.
According to Lieve Declercq, who (deep breath) is the brand's global spokesperson of plant physiology and molecular biology, the cream uses Mimosa Tree bark, green algae and Argan leaf to boost skin's natural collagen. Apple and cucumber extract and something called a Scutellaria Baicalensis Root even skin tone and Chestnut-Castenae Sativa Extract, Salicylic Acid and Mannose Phosphate help skin resurface. Blimey, that was a proper mouthful. But you know, some people want the details.
Anyway, those who are regular readers of the site will know my affection for the brand. I have to say that affection massively increased when I received its latest press release.
In bold type at the top of the page is the statement: "Visibly level lines and reduce the appearance of wrinkles with nature's alternative to injections. And then hiding underneath in teeny weeny print is the disclaimer: "Results not equal to medical procedures. Not really comparative to injections then.
Origins, I love you.
Origins Starting Over (50ml) costs £34.00