Last Updated on 19th October 2013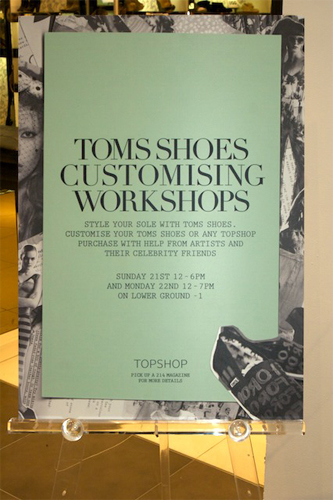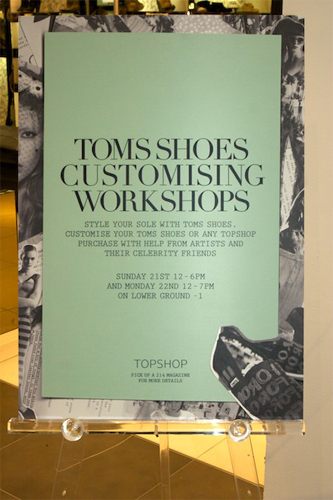 What's better than buying a new pair of shoes? Not a lot I hear you whisper. I'll tell you what – buying a new pair of shoes and knowing you're helping someone less fortunate at the same time. This is why we love TOMS, founded by chief shoe giver Blake Mycoskie, TOMS give a new pair of shoes to a child in need with every pair purchased.
The super-cool plimsolls take their inspiration from an espadrille type shoe that Blake saw locals and farmers wearing during a trip to Argentina in 2006. It was here that he decided to start a company in order to give to those in need, and now the shoes are manufactured in hundreds of styles and fabrics and sold worldwide.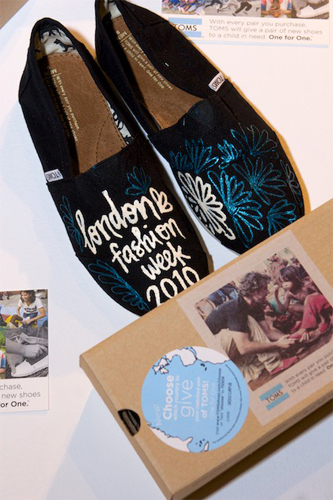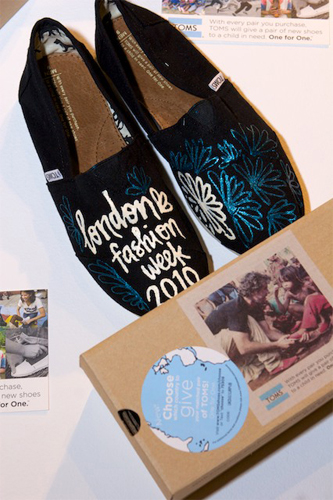 As part of their LFW in-store schedule last week, Topshop Oxford Circus teamed up with TOMS to host the first UK 'style your sole' event where customers and fans could get their TOMS specially customised by a team of very talented graffiti artists. If they could get to the front of the queue, customers could ask one of the all-female team of graffiti artists or founder Blake, to customise their canvas TOMS for them.
A personally customised pair of TOMS with the promise of someone else getting a pair of shoes too? Yes please!
Take a look at some of the designs courtesy of Blake and his team of graffiti artists.